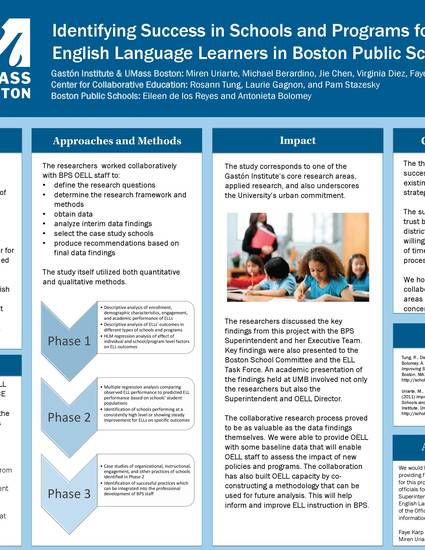 Presentation
Identifying Success in Schools and Programs for English Language Learners in Boston Public Schools
Office of Community Partnerships Posters
Document Type
Presentation
Publication Date
4-5-2012
Abstract
The Gastón Institute collaborates with government agencies, community organizations and foundations in applied research aimed at evaluating the impact of policies, programs and practices. This poster describes a three-way collaboration among researchers and practitioners from Boston Public Schools (BPS), the Gastón Institute and the Center for Collaborative Education (CCE) which yielded two comprehensive studies: 1. The enrollment and outcomes of English language learners in BPS; 2. Best ELL practices in four schools that were consistently high performing or steadily improving with respect to ELL student outcomes.
Community Engaged/Serving
No, this is not community-engaged.
Citation Information
Miren Uriarte, Michael Berardino, Jie Chen, Virginia Diez, et al.. "Identifying Success in Schools and Programs for English Language Learners in Boston Public Schools" (2012)
Available at: http://works.bepress.com/miren_uriarte/21/