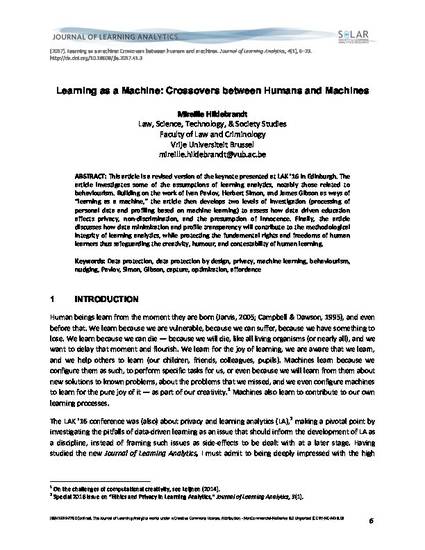 Article
Learning as a Machine. Crossovers Between Humans and Machines
Journal of Learning Analytics (2017)
Abstract
 This article is a revised version of the keynote presented at LAK '16 in Edinburgh. The
article investigates some of the assumptions of learning analytics, notably those related to
behaviourism. Building on the work of Ivan Pavlov, Herbert Simon, and James Gibson as ways of
"learning as a machine," the article then develops two levels of investigation (processing of
personal data and profiling based on machine learning) to assess how data driven education
affects privacy, non-discrimination, and the presumption of innocence. Finally, the article
discusses how data minimization and profile transparency will contribute to the methodological
integrity of learning analytics, while protecting the fundamental rights and freedoms of human
learners thus safeguarding the creativity, humour, and contestability of human learning.
Keywords
Data protection,
data protection by design,
privacy,
machine learning,
behaviourism,
nudging,
Pavlov,
Simon,
Gibson,
capture,
optimization,
affordance
Publication Date
January, 2017
DOI
http://dx.doi.org/10.18608/jla.2017.41.3
Citation Information
Mireille Hildebrandt, Learning as a Machine. Crossovers Between Humans and Machines, Journal of Learning Analytics, 4(1), 6–23, http://www.learning-analytics.info/journals/index.php/JLA/article/view/5367/5812
Creative Commons license
This work is licensed under a Creative Commons CC_BY-NC-ND International License.