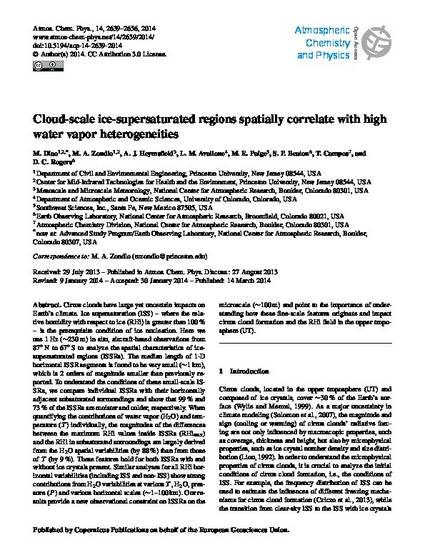 Article
Cloud-scale Ice-supersaturated Regions Spatially Correlate With High Water Vapor Heterogeneities
Atmospheric Chemistry and Physics (2014)
Abstract
Cirrus clouds have large yet uncertain impacts on Earth's climate. Ice supersaturation (ISS) – where the relative humidity with respect to ice (RHi) is greater than 100% – is the prerequisite condition of ice nucleation. Here we use 1 Hz (~230 m) in situ, aircraft-based observations from 87° N to 67° S to analyze the spatial characteristics of ice-supersaturated regions (ISSRs). The median length of 1-D horizontal ISSR segments is found to be very small (~1 km), which is 2 orders of magnitude smaller than previously reported. To understand the conditions of these small-scale ISSRs, we compare individual ISSRs with their horizontally adjacent subsaturated surroundings and show that 99% and 73% of the ISSRs are moister and colder, respectively. When quantifying the contributions of water vapor (H
2
O) and temperature (
T
) individually, the magnitudes of the differences between the maximum RHi values inside ISSRs (RHi
max
) and the RHi in subsaturated surroundings are largely derived from the H
2
O spatial variabilities (by 88%) than from those of 
T
 (by 9%). These features hold for both ISSRs with and without ice crystals present. Similar analyses for all RHi horizontal variabilities (including ISS and non-ISS) show strong contributions from H
2
O variabilities at various 
T
, H
2
O, pressure (
P
) and various horizontal scales (~1–100 km). Our results provide a new observational constraint on ISSRs on the microscale (~100 m) and point to the importance of understanding how these fine-scale features originate and impact cirrus cloud formation and the RHi field in the upper troposphere (UT).
Publication Date
March 14, 2014
DOI
10.5194/acp-14-2639-2014
Citation Information
Minghui Diao, Mark A. Zondlo, Andrew J. Heymsfield, L. M. Avallone, et al.. "Cloud-scale Ice-supersaturated Regions Spatially Correlate With High Water Vapor Heterogeneities"
Atmospheric Chemistry and Physics
Vol. 14 Iss. 5 (2014) p. 2639 - 2656 ISSN: 1680-7316
Available at: http://works.bepress.com/minghui-diao/3/
Creative Commons license
This work is licensed under a Creative Commons CC_BY International License.