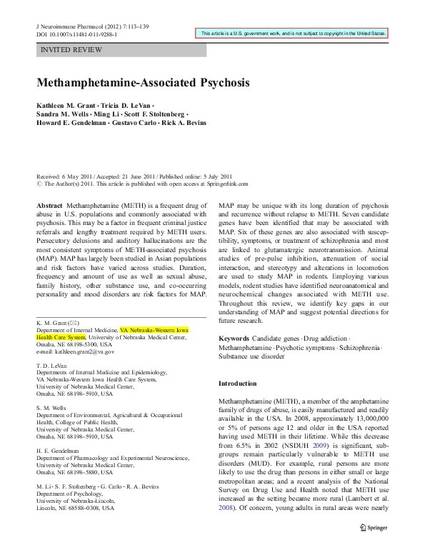 Other
Methamphetamine-Associated Psychosis
Faculty Publications, Department of Psychology
Abstract
Methamphetamine (METH) is a frequent drug of abuse in U.S. populations and commonly associated with psychosis. This may be a factor in frequent criminal justice referrals and lengthy treatment required by METH users. Persecutory delusions and auditory hallucinations are the most consistent symptoms of METH-associated psychosis (MAP). MAP has largely been studied in Asian populations and risk factors have varied across studies. Duration, frequency and amount of use as well as sexual abuse, family history, other substance use, and co-occurring personality and mood disorders are risk factors for MAP. MAP may be unique with its long duration of psychosis and recurrence without relapse to METH. Seven candidate genes have been identified that may be associated with MAP. Six of these genes are also associated with susceptibility, symptoms, or treatment of schizophrenia and most are linked to glutamatergic neurotransmission. Animal studies of pre-pulse inhibition, attenuation of social interaction, and stereotypy and alterations in locomotion are used to study MAP in rodents. Employing various models, rodent studies have identified neuroanatomical and neurochemical changes associated with METH use. Throughout this review, we identify key gaps in our understanding of MAP and suggest potential directions for future research.
Citation Information
Kathleen M. Grant, Tricia D. Le Van, Sandra M. Wells, Ming Li, et al.. "Methamphetamine-Associated Psychosis"
Available at: http://works.bepress.com/ming_li/2/