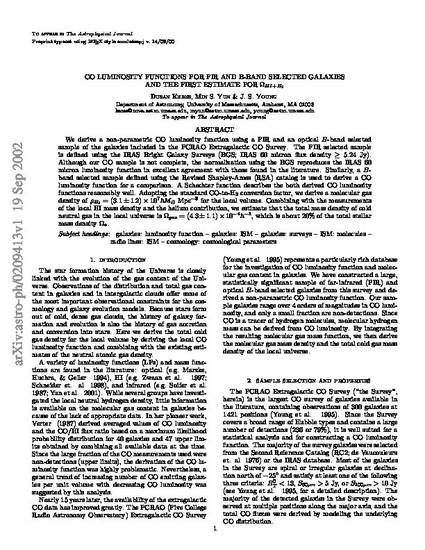 Article
CO luminosity functions for far-infrared- and B-band-selected galaxies and the first estimate for Omega(H I+H2)
ASTROPHYSICAL JOURNAL
Abstract
We derive a nonparametric CO luminosity function using an FIR- and an optical B-band-selected sample of the galaxies included in the FCRAO Extragalactic CO Survey. The FIR-selected sample is defined using the IRAS bright galaxy samples (BGS; IRAS 60 μm flux density ≥5.24 Jy). Although our CO sample is not complete, the normalization using the BGS reproduces the IRAS 60 μm luminosity function in excellent agreement with those found in the literature. Similarly, a B-band-selected sample defined using the Revised Shapley-Ames catalog is used to derive a CO luminosity function for a comparison. A Schechter function describes both the derived CO luminosity functions reasonably well. Adopting the standard CO-to-H2 conversion factor, we derive a molecular gas density of ρ = (3.1 ± 1.2) × 107 h M Mpc-3 for the local volume. Combining with the measurements of the local H I mass density and the helium contribution, we estimate that the total mass density of cold neutral gas in the local universe is Ωgas = (4.3 ± 1.1) × 10-4 h-1, which is about 20% of the total stellar mass density Ω*.
Citation Information
D Keres, Min Yun and JS Young. "CO luminosity functions for far-infrared- and B-band-selected galaxies and the first estimate for Omega(H I+H2)"
ASTROPHYSICAL JOURNAL
Vol. 582 Iss. 2 (2003)
Available at: http://works.bepress.com/min_yun/5/