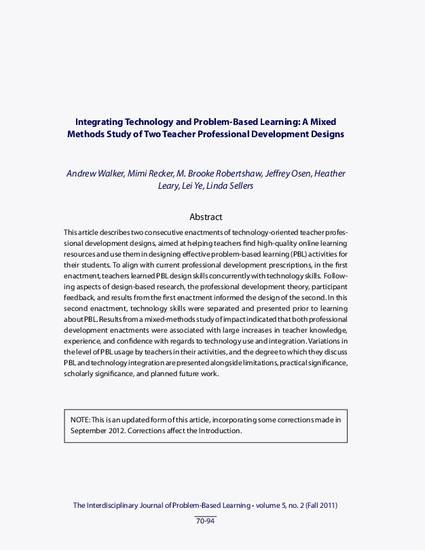 Article
Integrating Technology and Problem-based Learning: A Mixed Methods Study of Two Teacher Professional Development Designs
Interdisciplinary Journal of Problem-Based Learning
Abstract
This article describes two consecutive enactments of technology-oriented teacher professional development designs, aimed at helping teachers find high-quality online learning resources and use them in designing effective problem-based learning (PBL) activities for their students. To align with current professional development prescriptions, in the first enactment, teachers learned PBL design skills concurrently with technology skills. Following aspects of design-based research, the professional development theory, participant feedback, and results from the first enactment informed the design of the second. In this second enactment, technology skills were separated and presented prior to learning about PBL. Results from a mixed-methods study of impact indicated that both professional development enactments were associated with large increases in teacher knowledge, experience, and confidence with regards to technology use and integration. Variations in the level of PBL usage by teachers in their activities, and the degree to which they discuss PBL and technology integration are presented alongside limitations, practical significance, scholarly significance, and planned future work.
Citation Information
Andrew Walker, Mimi Recker, M. Brooke Robertshaw, Jeffrey Osen, et al.. "Integrating Technology and Problem-based Learning: A Mixed Methods Study of Two Teacher Professional Development Designs"
Available at: http://works.bepress.com/mimi_recker/41/