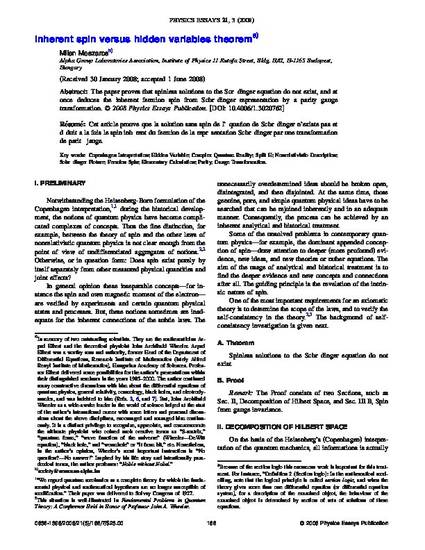 Presentation
Mind-Matter Interaction in Quantum Physics
York University lecture by Milan Meszaros, 26 August, 1997, Toronto, Canada. On an international physics conference dedicated to "Causality and Locality in Modern Physics and Astronomy". (2000)
Abstract
By the end of the 20th century, the Einstein-Podolsky-Rosen, Schrödinger's cat and Wigner's friend paradoxes of quantum theory were already known. The Bell's inequalities, the Aharonov-Bohm effect and the holographical principles etc. were also acquainted. There were positive experiments of Aspect, Daligbard and Roger just as Aspect, Grangier and Roger etc. In connection with these paradoxes and paradoxical experiments etc., the questions are raised: What is the ontological frame for description of these effects or notions: nonlocal, guiding wave (pilot wave), instantenous, delayed-choice experiments, superluminal, ghost wave, immaterial or mind, mind-matter interaction, holographical universe or entangled states just as quantum teleportation etc? What is the common field which is able to become a basis and background for these phenomenons? Where is the field in the physics that can characterize immanently these effects and phenomenas? (In quantum physics? And inside it?) What/Where are the equations of fields which can describe immanently these effects, behavior of immaterial or mind-matter interaction? What/Where is the ghost in the atom? What is the (role of) spin in the material-immaterial interaction? What does the determinism mean in the extended ontological frame? Among others, the presentation will give the answers for these questions, and show up that the common field and equations have lay hidden in the quantum physics since its origin. The study implicitly discusses the status of the contemporary natural philosophies and directly constructs the paradigm of quantum metaphysics after all.
Keywords
complex quantum reality,
quantum information,
ontology of contrary,
immaterial-material interaction,
dialectical tense logic,
non-relativistic description,
Schrödinger representation and equation,
just as spin
Publication Date
Winter February 10, 2000
Citation Information
Milan Meszaros. "Mind-Matter Interaction in Quantum Physics"
York University lecture by Milan Meszaros, 26 August, 1997, Toronto, Canada. On an international physics conference dedicated to "Causality and Locality in Modern Physics and Astronomy".
(2000)
Available at: http://works.bepress.com/milan_meszaros/49/