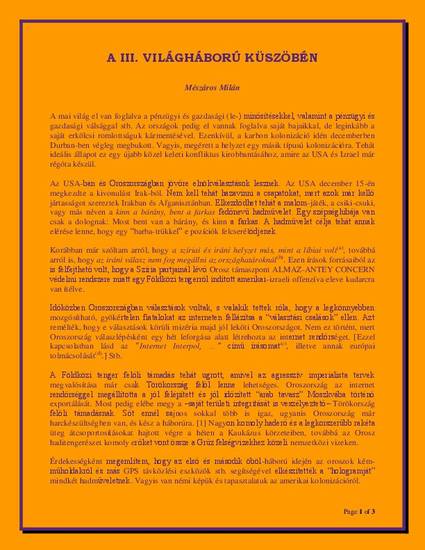 Article
A III. világháború küszöbén (At the Threshold of World War 3)
RZK Online (NEWS) (2011)
Abstract
Oswald Spengler A Nyugat Alkonya című könyvében a történelmet nem korszakok szerint tárgyalja, hanem kultúrák szerint. Így ő nyolc kultúrát sorol fel, amelyek a történelmet alakították. Ha ezeket alaposan szemügyre vesszük, akkor láthatjuk, hogy egyetlen olyan kultúra létezik, amelyik még nem dominálta a történelmet. Ez pedig az arab. Megítélésem szerint a 21. században ez a "korszak" következik. Hogy ez a kultúra-váltás a III. világháború után jön-e el, vagy anélkül, nem tudni. De eljön, s ezzel jó tisztában lenni. Persze, háború nélkül kevésbé rossz lenne.
Keywords
Szíria,
Irán,
internet interpol,
almaz-antey concern,
kolonizáció,
nyugat alkonya
Publication Date
Winter December 19, 2011
Citation Information
Milan Meszaros. "A III. világháború küszöbén (At the Threshold of World War 3)"
RZK Online (NEWS)
Vol. http://realzoldek.weboldala.net/albums/userpics/10001/M%C3%A9sz%C3%A1ros_Mil%C3%A1n_-_A_III__vil%C3%A1gh%C3%A1bor%C3%BA_k%C3%BCsz%C3%B6b%C3%A9n.pdf (2011)
Available at: http://works.bepress.com/milan_meszaros/46/