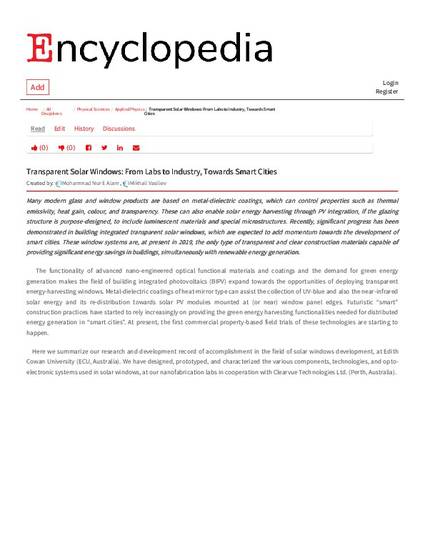 Popular Press
Transparent Solar Windows From Labs to Industry, Towards Smart Cities - Encyclopedia- Oct 2019.pdf
Transparent Solar Windows: From Labs to Industry, Towards Smart Cities (2019)
Abstract
Many modern glass and window products are based on metal-dielectric coatings, which can control properties such as thermal emissivity, heat gain, colour, and transparency. These can also enable solar energy harvesting through PV integration, if the glazing structure is purpose-designed, to include luminescent materials and special microstructures. Recently, significant progress has been demonstrated in building integrated transparent solar windows, which are expected to add momentum towards the development of smart cities. These window systems are, at present in 2019, the only type of transparent and clear construction materials capable of providing significant energy savings in buildings, simultaneously with renewable energy generation.
Keywords
renewables,
energy saving and generation,
solar windows,
built environments,
photovoltaics,
advanced glazings
Publication Date
Fall October 29, 2019
DOI
https://encyclopedia.pub/324
Citation Information
Mohammad, Nur E Alam; Mikhail, Vasiliev. Transparent Solar Windows: From Labs to Industry, Towards Smart Cities, Encyclopedia, 2019, v1, Available online: https://encyclopedia.pub/324
Creative Commons License
This work is licensed under a Creative Commons CC_BY-ND International License.