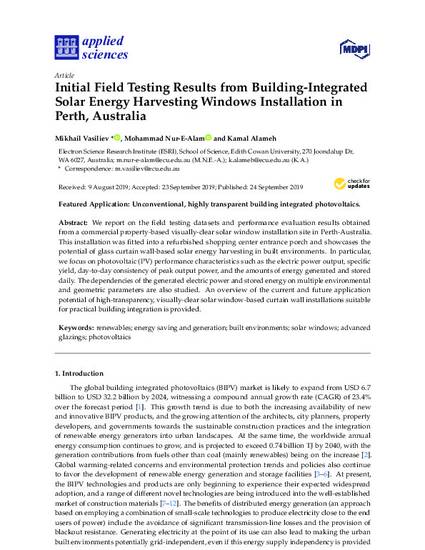 Article
Initial Field Testing Results from Building-Integrated Solar Energy Harvesting Windows Installation in Perth, Australia
Applied Sciences (2019)
Abstract
We report on the field testing datasets and performance evaluation results obtained
from a commercial property-based visually-clear solar window installation site in Perth-Australia.
This installation was fitted into a refurbished shopping center entrance porch and showcases the
potential of glass curtain wall-based solar energy harvesting in built environments. In particular,
we focus on photovoltaic (PV) performance characteristics such as the electric power output, specific
yield, day-to-day consistency of peak output power, and the amounts of energy generated and stored
daily. The dependencies of the generated electric power and stored energy on multiple environmental
and geometric parameters are also studied. An overview of the current and future application
potential of high-transparency, visually-clear solar window-based curtain wall installations suitable
for practical building integration is provided.
Keywords
renewables,
energy saving and generation,
built environments,
solar windows,
advanced glazings,
photovoltaics
Publication Date
Fall September 24, 2019
Citation Information
Vasiliev, M.; Nur-E-Alam, M.; Alameh, K. Initial Field Testing Results from Building-Integrated Solar Energy Harvesting Windows Installation in Perth, Australia. Appl. Sci. 2019, 9, 4002.
Creative Commons license
This work is licensed under a Creative Commons CC_BY-NC International License.