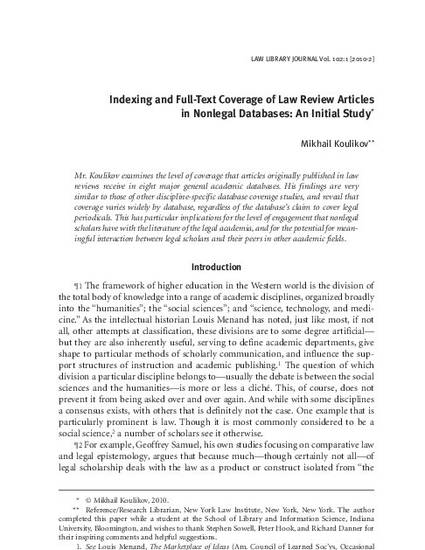 Article
Indexing and full-text coverage of law review articles in non-legal databases: An initial study
Law Library Journal (2010)
Abstract
Mr. Koulikov examines the level of coverage that articles originally published in law reviews receive in eight major general academic databases. His findings are very similar to those of other discipline-specific database coverage studies, and reveal that coverage varies widely by database, regardless of the database's claim to cover legal periodicals. This has particular implications for the level of engagement that nonlegal scholars have with the literature of the legal academia, and for the potential for meaningful interaction between legal scholars and their peers in other academic fields.
[This is a revision of the winning submission to the 2009 AALL/LexisNexis Call for Papers. It is based on a term paper originally prepared for an Evaluation of Sources and Services class at the School of Library and Information Science, Indiana University, Bloomington,]
Publication Date
Winter 2010
Citation Information
Koulikov, M. (2010). Indexing and full-text coverage of law review articles in non-legal databases: An initial study.
Law Library Journal
,
(102)
1, 39-57.