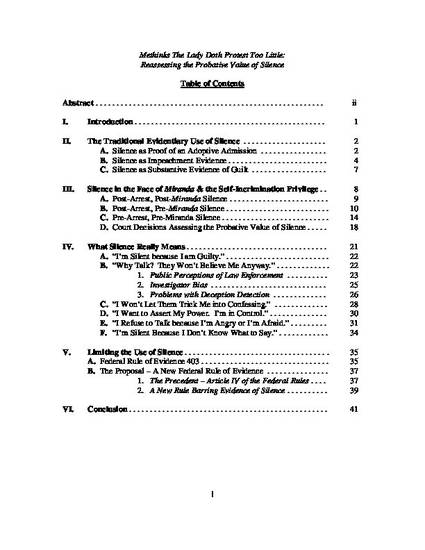 Unpublished Paper
Methinks the Lady Doth Protest Too Little: Reassessing the Probative Value of Silence
ExpressO (2008)
Abstract
This article takes a fresh look at why individuals remain silent in the face of accusations by law enforcement. Traditionally, many courts have found that a defendant's failure to protest her innocence reflects one of three things: (1) that the defendant has manifested her assent to the accusation by not responding; (2) that the defendant's silence is a prior statement inconsistent with any testimony proclaiming innocence at trial; or (3) that the silence is substantive evidence of the defendant's guilt. This article posits that a defendant's silence actually means very little. Social science research regarding the possible meanings of silence supports this argument. Research in the areas of psychology, sociology and communications demonstrates that silence can mean the arrestee is angry, fearful, or attempting to assert her control. The silence also may reflect the arrestee's general distrust of law enforcement. Mostly importantly, the defendant's silence may demonstrate an arrestee's decision to assert her self-incrimination privilege. Due to the inherent ambiguity of silence and the possibility that a defendant might be reluctant to assert her Fifth Amendment privilege if the silence can later be used against her, this article proposes a new Federal Rule of Evidence that provides a limited prohibition on the admissibility of silence evidence. Not only does the new rule recognize the ambiguity of silence, but it also ensures that defendants will not be discouraged from asserting their self-incrimination privilege.
Keywords
interdisciplinary research,
self-incrimination privilege,
probative value of silence
Publication Date
March 31, 2008
Citation Information
Mikah K. Story Thompson. "Methinks the Lady Doth Protest Too Little: Reassessing the Probative Value of Silence"
ExpressO
(2008)
Available at: http://works.bepress.com/mikah_story_thompson/2/