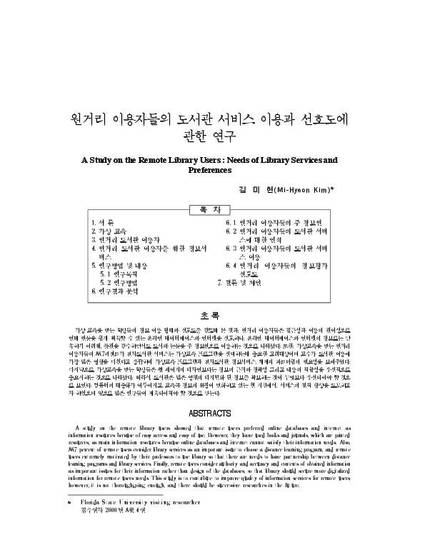 Article
A Study on the Remote Library Users: Needs of Library Services and Preferences
Journal of the Korean Society for Library and Information Science
Department/Program
Education
Publication Date
9-1-2000
Abstract
A study on the remote library users showed that remote users preferred online databases and internet as information resources because of easy access and easy of use. However, they have used books and journals, which are printed resources, as main information resources because online databases and internet cannot satisfy their information needs. Also, 86.7 percent of remote users consider library services as an important issue to choose a distance learning program, and remote users extremely motivated by their professors to use library so that there are needs to have partnership between distance learning programs and library services. Finally, remote users consider authority and accuracy and contents of obtained information as important issues for their information rather than design of the databases, so that library should secure more digitized information for remote users needs. This study is to contribute to improve quality of information services for remote users, however, it is not thorough enough, and there should be successive researches in the future.
Citation Information
Mihyeon Kim. "A Study on the Remote Library Users: Needs of Library Services and Preferences"
Journal of the Korean Society for Library and Information Science
Vol. 34 Iss. 3 (2000) p. 61 - 76
Available at: http://works.bepress.com/mihyeon-kim/36/