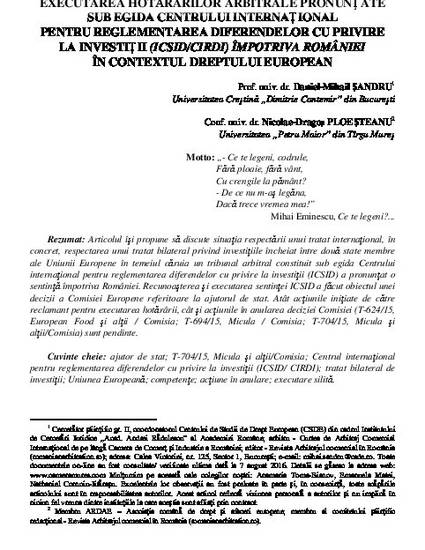 Contribution to Book
Executarea hotararilor arbitrale pronunţate sub egida Centrului Internaţional pentru Reglementarea Diferendelor cu privire la Investitii (ICSID/ CIRDI) impotriva României in contextul dreptului european (The Execution of the Awards Rendered Pursuant to International Centre for Settlement of Investment Disputes Convention (ICSID) against Romania in the Framework of European Law)
Conferinta Internationala "Procesul civil si executarea silita. Teorie si practica" (International Conference "Civil Lawsuit and Legal Enforcement. Theory and Practice"), Tirgu Mures, Romania, August 25th-27th 2016. (2016)
Abstract
Romanian Abstract:
 Articolul îşi propune să discute situaţia respectării unui tratat internaţional, în concret, respectarea unui tratat bilateral privind investiţiile încheiat între două state membre ale Uniunii Europene în temeiul căruia un tribunal arbitral constituit sub egida Centrului internaţional pentru reglementarea diferendelor cu privire la investiţii (ICSID) a pronunţat o sentinţă împotriva României. Recunoaşterea şi executarea sentinţei ICSID a făcut obiectul unei decizii a Comisiei Europene referitoare la ajutorul de stat. Atât acţiunile iniţiate de către reclamant pentru executarea hotărârii, cât şi acţiunile în anularea deciziei Comisiei (T-624/15, European Food şi alţii / Comisia; T-694/15, Micula / Comisia; T-704/15, Micula şi alţii/Comisia) sunt pendinte.
English Abstract:
 The article will analyze the situation of compliance with an international treaty, respectively, compliance with a bilateral treaty on investments concluded between two member states of the European Union, based on which an arbitral tribunal constituted under the aegis of the International Center for Settlement of Investment Disputes (ICSID) has given an award against Romania. The recognition and enforcement of ICSID awards has made the object of a decision of the European Commission regarding state aid. Both actions, initiated by the plaintiff for enforcement of the award as well as the action for annulment of the Commissions'decision (T-624/15, European Food and others / Commission; T-694/15, Micula / Commission; T-704/15, Micula and others/Commission) are undergoing.
Note: Downloadable document is in Romanian.
Keywords
State Aid,
T-704/15,
and Others/Commission,
International Center for Settlement of Investment Disputes (ICSID),
Bilateral Investment Treaty,
European Union,
Competences,
Action for Annulment,
Enforcement
Publication Date
Summer August 25, 2016
Publisher
Universul Juridic
Citation Information
Daniel Mihail Sandru, Nicolae-Dragos, Ploesteanu, Executarea hotararilor arbitrale pronunţate sub egida Centrului Internaţional pentru Reglementarea Diferendelor cu privire la Investitii (ICSID/ CIRDI) impotriva României in contextul dreptului european (The Execution of the Awards Rendered Pursuant to International Centre for Settlement of Investment Disputes Convention (ICSID) against Romania in the Framework of European Law) in Conferinta Internationala "Procesul civil si executarea silita. Teorie si practica" (International Conference "Civil Lawsuit and Legal Enforcement. Theory and Practice"), Tirgu Mures, Romania, August 25th-27th 2016< bucuresti, Ed. Universul Juridic, ISBN 978-606-673-909-9, p. 63-80.