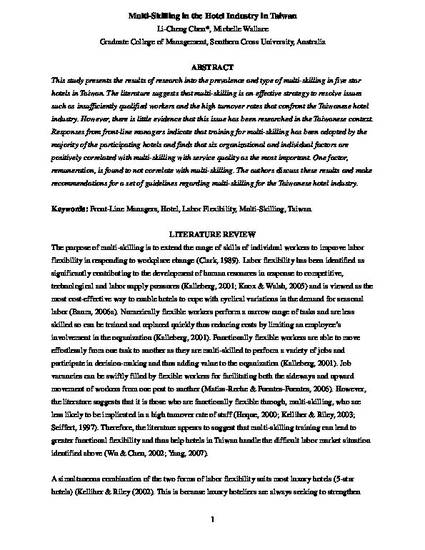 Presentation
Multiskilling in the hotel industry in Taiwan
Sustainable management and marketing: Australian and New Zealand Academy of Management (ANZAM) conference
Document Type
Conference publication
Publication Date
1-1-2009
Abstract
This study presents the results of research into the prevalence and type of multi-skilling in five star hotels in Taiwan. The literature suggests that multi-skilling is an effective strategy to resolve issues such as insufficiently qualified workers and the high turnover rates that confront the Taiwanese hotel industry. However, there is little evidence that this issue has been researched in the Taiwanese context. Responses from front-line managers indicate that training for multi-skilling has been adopted by the majority of the participating hotels and finds that six organizational and individual factors are positively correlated with multi-skilling with service quality as the most important. One factor, remuneration, is found to not correlate with multi-skilling. The authors discuss these results and make recommendations for a set of guidelines regarding multi-skilling for the Taiwanese hotel industry.
Citation Information
Chen, LC & Wallace, M 2009, 'Multiskilling in the hotel industry in Taiwan', Sustainable management and marketing: Australian and New Zealand Academy of Management (ANZAM) conference, Melbourne, Vic., 1-4 December, Promaco Conventions Pty Ltd, Canning Bridge, WA.