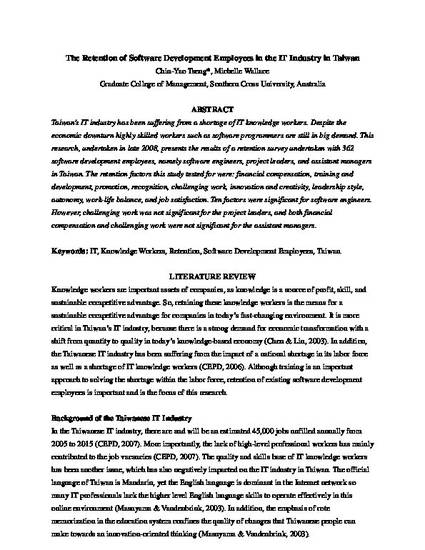 Presentation
Retention of software employees in the IT industry in Taiwan
Sustainable management and marketing: Australian and New Zealand Academy of Management (ANZAM) conference
Document Type
Conference publication
Publication Date
1-1-2009
Abstract
Taiwan's IT industry has been suffering from a shortage of IT knowledge workers. Despite the economic downturn highly skilled workers such as software programmers are still in big demand. This research, undertaken in late 2008, presents the results of a retention survey undertaken with 362 software development employees, namely software engineers, project leaders, and assistant managers in Taiwan. The retention factors this study tested for were: financial compensation, training and development, promotion, recognition, challenging work, innovation and creativity, leadership style, autonomy, work-life balance, and job satisfaction. Ten factors were significant for software engineers. However, challenging work was not significant for the project leaders, and both financial compensation and challenging work were not significant for the assistant managers.
Citation Information
Tseng, CY & Wallace, M 2009, 'Retention of software employees in the IT industry in Taiwan', Sustainable management and marketing: Australian and New Zealand Academy of Management (ANZAM) conference, Melbourne, Vic., 1-4 December, Promaco Conventions Pty Ltd, Canning Bridge, WA.