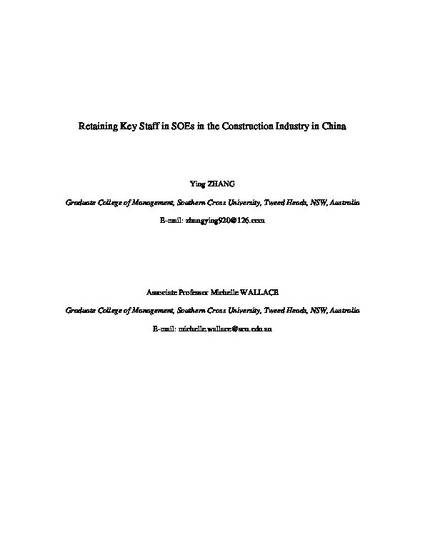 Presentation
Retaining key staff in SOEs in the construction industry in China
Managing in the Pacific century : program and abstracts: 22nd Australian and New Zealand Academy of Management Conference
Document Type
Conference publication
Publication Date
1-1-2008
Abstract
China suffers from skills shortages especially in key staff and the construction industry is no exception. The research presents the results of a retention survey undertaken with 400 managers and technical staff in construction state owned enterprises (SOEs) in relation to eleven factors that have been identified in the, mainly western, literature to influence retention. Ten of these factors were seen to support retention at different levels of intensity with fair treatment, opportunities for learning and development, and challenging and interesting work the most significantly valued. One factor, job security, was found to not correlate with retention. The authors suggest some reasons in Chinese workplace culture for this seeming anomaly and make recommendations regarding implementing retention strategies adapted from the western context, for Chinese SOEs.
Citation Information
Zhang, Y & Wallace, M 2008, 'Retaining key staff in SOEs in the construction industry in China',
Managing in the Pacific century : program and abstracts: 22nd Australian and New Zealand Academy of Management Conference
, Auckland, NZ, 2-5 December, Promaco Conventions Pty Ltd., Canning Bridge, WA.