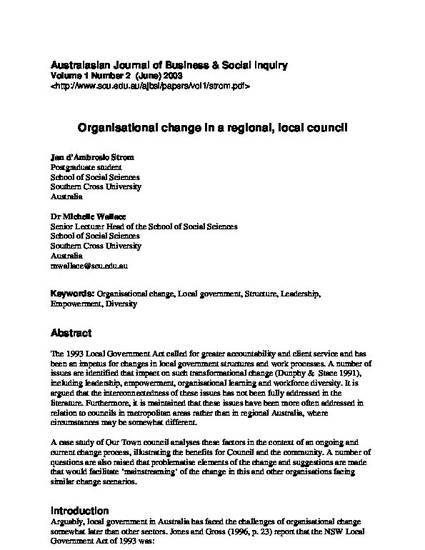 Article
Organizational change in a regional, local council
Australasian Journal of Business and Social Inquiry
Publication Date
1-1-2002
Peer Reviewed
Peer-Reviewed
Abstract
The 1993 Local Government Act called for greater accountability and client service and has been an impetus for changes in local government structures and work processes. A number of issues are identified that impact on such transformational change (Dunphy & Stace 1991), including leadership, empowerment, organisational learning and workforce diversity. It is argued that the interconnectedness of these issues has not been fully addressed in the literature. Furthermore, it is maintained that these issues have been more often addressed in relation to councils in metropolitan areas rather than in regional Australia, where circumstances may be somewhat different. A case study of Our Town council analyses these factors in the context of an ongoing and current change process, illustrating the benefits for Council and the community. A number of questions are also raised that problematise elements of the change and suggestions are made that would facilitate 'mainstreaming' of the change in this and other organisations facing similar change scenarios.
Citation Information
Post-print of Strom, J and Wallace, M 2002, 'Organizational change in a regional, local council', Australasian Journal of Business and Social Inquiry, vol. 1, no. 2, pp. 1-14.