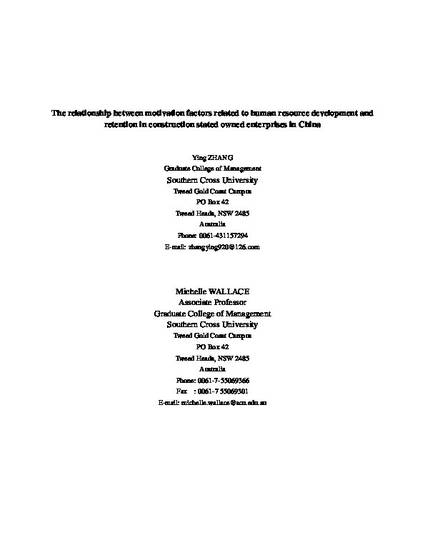 Presentation
The relationship between motivation factors related to human resource development and retention in construction stated owned organizations in China
Proceedings of the Asia Academy of Human Resource Development Conference
Document Type
Conference publication
Publication Date
1-1-2008
Abstract
Organisations throughout China are faced with the challenge of retaining and motivating staff through a range of human resource activities. This study tested literature on retention with a survey of 400 technical and management staff in two state-owned construction organizations in China. Four HRD-related factors were found to be positively related to retention and two of these factors, opportunities for learning and development and fair treatment, uniquely contributed to retention.
Citation Information
Zhang, Y & Wallace, M 2008, 'The relationship between motivation factors related to human resource development and retention in construction stated owned organizations in China', Proceedings of the Asia Academy of Human Resource Development Conference, Bangkok, Thailand, 3-6 November, Asia Academy of Human Resource Development.