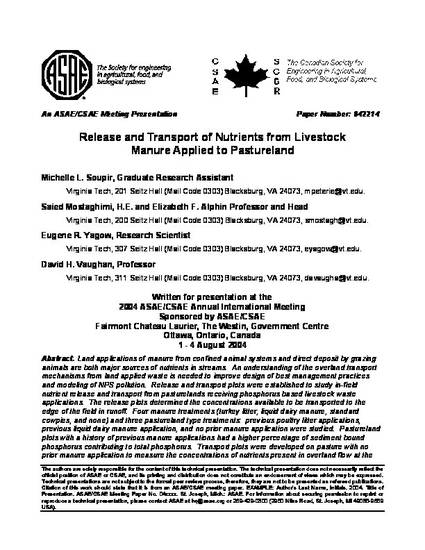 Presentation
Release and Transport of Nutrients from Livestock Manure Applied to Pastureland
2004 ASAE/CSAE Annual International Meeting (2004)
Abstract
Land applications of manure from confined animal systems and direct deposit by grazing animals are both major sources of nutrients in streams. An understanding of the overland transport mechanisms from land applied waste is needed to improve design of best management practices and modeling of NPS pollution. Release and transport plots were established to study in-field nutrient release and transport from pasturelands receiving phosphorus based livestock waste applications. The release plots determined the concentrations available to be transported to the edge of the field in runoff. Four manure treatments (turkey litter, liquid dairy manure, standard cowpies, and none) and three pastureland type treatments: previous poultry litter applications, previous liquid dairy manure application, and no prior manure application were studied. Pastureland plots with a history of previous manure applications had a higher percentage of sediment bound phosphorus contributing to total phosphorus. Transport plots were developed on pasture with no prior manure application to measure the concentrations of nutrients present in overland flow at the edge of the field. The flow weighted phosphorus concentrations were highest in runoff samples from the plots treated with cowpies (1.57 mg/L of TP). Restricting grazing cattle access to streams will reduce direct loading, but the results from this study indicate that a buffer zone or other management might be necessary to reduce nutrient and bacteria losses to waterbodies.
Keywords
Nutrients,
Phosphorus,
Nitrogen,
Nonpoint Pollution,
Land Application of Waste
Publication Date
August, 2004
Citation Information
Michelle L. Soupir, Saied Mostaghimi, Eugene R. Yagow and David H. Vaughan. "Release and Transport of Nutrients from Livestock Manure Applied to Pastureland"
2004 ASAE/CSAE Annual International Meeting
(2004)
Available at: http://works.bepress.com/michelle_soupir/31/