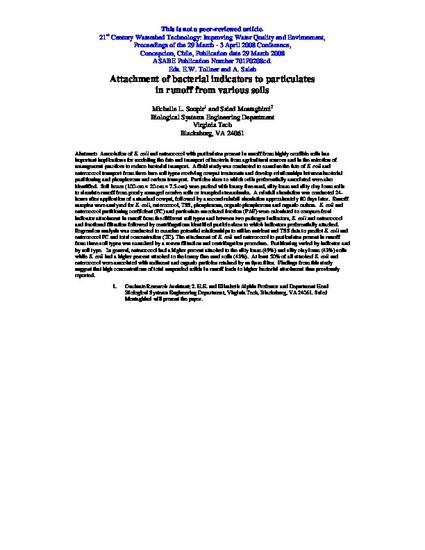 Presentation
Attachment Of Bacterial Indicators To Particulates In Runoff From Various Soils
21st Century Watershed Technology: Improving Water Quality and Environment (2008)
Abstract
A field study was conducted to examine the fate of E. coli and enterococci transport from three bare soil types receiving cowpat treatments and develop relationships between bacterial partitioning and phosphorous and carbon transport. Particles sizes to which cells preferentially associated were also identified.
Citation Information
Michelle L. Soupir and Saied Mostaghimi. "Attachment Of Bacterial Indicators To Particulates In Runoff From Various Soils"
21st Century Watershed Technology: Improving Water Quality and Environment
(2008)
Available at: http://works.bepress.com/michelle_soupir/26/