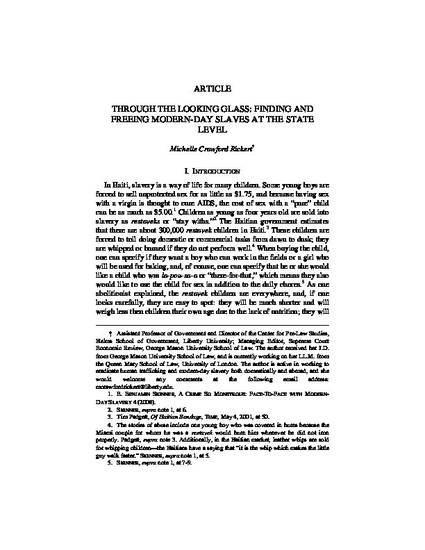 Article
THROUGH THE LOOKING GLASS: FINDING AND FREEING MODERN-DAY SLAVES AT THE STATE LEVEL
Faculty Publications and Presentations
Abstract
This article delves into the interaction between federal and state laws prohibiting human trafficking. The article advocates for comprehensive human trafficking laws at the state level, including police training, victim aftercare, forfeiture, and prosecution as essential elements. It looks comprehensively at the existing state laws prohibiting human trafficking. Additionally it examines the five existing models for state law and suggests benefits and potential improvements for each model. The article concludes y advocating a holistic law prohibiting human trafficking in the Commonwealth of Virginia.
Citation Information
Michelle L. Rickert. "THROUGH THE LOOKING GLASS: FINDING AND FREEING MODERN-DAY SLAVES AT THE STATE LEVEL"
Available at: http://works.bepress.com/michelle_rickert/5/