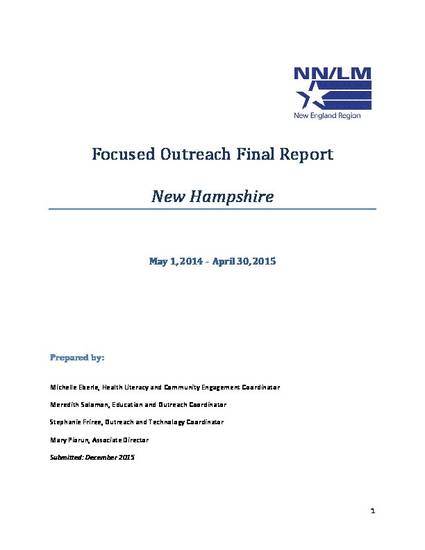 Article
Focused Outreach Final Report: New Hampshire (May 1, 2014 - April 30, 2015)
National Network of Libraries of Medicine New England Region (NN/LM NER) Repository
Document Type
Project Summary
Project Name
Focused Outreach New Hampshire (May 2014 - April 2015)
Abstract
The Focused Outreach Project connected underserved communities in New Hampshire with the resources and services of the National Network of Libraries of Medicine, New England Region (NN/LM NER) and the National Library of Medicine (NLM). NER identified project partners following key informant interviews. NER staff worked with project partners to guide them through the funding process, provided initial training on National Library of Medicine resources, and ensured the projects fulfilled goals and objectives as identified in their proposals.
Project partners included:
City of Nashua Division of Public Health and Community Services
City of Nashua, Office of Emergency Management
Concord Public Library
New Hampshire Area Health Education Centers
New Hampshire Community College Librarians and Nursing Educators
New Hampshire Comprehensive Cancer Collaboration
New Hampshire State Library
NER conducted a state-wide membership drive. NER provided the New Hampshire State Library with membership packets to mail to libraries in New Hampshire that were not already NN/LM Network Members. As a result of the membership drive, 29 libraries joined the network.
NER developed relationships with seven new project partners. Each project partner used their own evaluation methods. Several project partners shared the value of their experience partnering with NN/LM NER in their reports and publications:
"These activities served to significantly increase awareness of the multitude of reliable NN/LM resources and tools available that can help guide the development of evidence-based strategies for those developing Health Plans, provide information for professionals about clinical trials, improve knowledge of how to conduct PubMed searches, refer patients and families to MedlinePlus, and learn about the PHPartners.org resources that will ultimately provide better outcomes for patients." -Judy Proctor, New Hampshire Comprehensive Cancer Plan, Foundation for Healthy Communities, Final Report
"Janet Eklund, administrator of library operations at New Hampshire State Library, says the most important outcome to emerge from the project is the education of librarians and their confidence providing consumer health information. "Now, of course, they're not going to be providing medical advice, but they're comfortable in using the resource so that they can help educate their patrons to use it themselves," Eklund says. "I think an increase in comfort level, knowledge, and skill is an excellent outcome for a program like this." – By Lea Radick, American Libraries Magazine, Nov/Dec 2015
"Our partnership with the National Network of Libraries of Medicine began before our Focused Outreach project through participation in an Extreme Weather Summit hosted by their team. At the summit they convinced my Office of the importance of partnering with libraries to promote health and emergency preparedness initiatives. With the support of NN/LM, we were successfully able to conduct an outreach project to promote preparedness to at-risk populations within our region with excellent technical assistance provided by our library." - Justin Kates, Director of Emergency Management, City of Nashua
Keywords
Focused Outreach,
National Library of Medicine,
Health Information,
Health Literacy,
Public Health,
MedlinePlus,
PubMed
Creative Commons License
Creative Commons Attribution-Noncommercial-Share Alike 4.0
Citation Information
Michelle L. Eberle, Meredith I. Solomon, Stephanie Friree and Mary E. Piorun. "Focused Outreach Final Report: New Hampshire (May 1, 2014 - April 30, 2015)" (2015)
Available at: http://works.bepress.com/michelle_eberle/13/