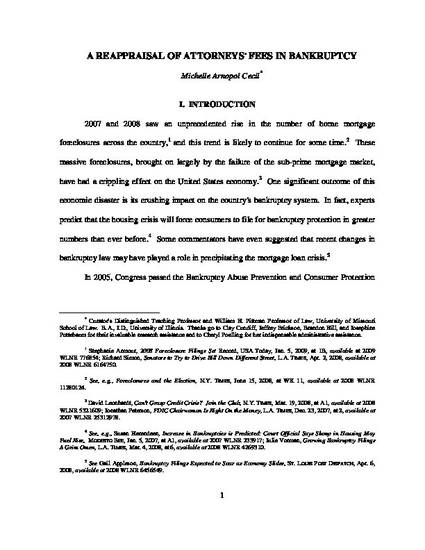 Unpublished Paper
A Reappraisal of Attorneys' Fees in Bankruptcy
ExpressO (2009)
Abstract
The current mortgage foreclosure crisis, coupled with the country's economic downturn and escalating consumer costs, have combined to place a crippling burden on the nation's bankruptcy system. During difficult economic times such as this, it is imperative that the bankruptcy system operate efficiently, as it provides a social safety net for both consumers and businesses. Unfortunately, there are many issues of statutory interpretation left unanswered in the Bankruptcy Code, and these issues have placed an increased burden on the country's bankruptcy courts. This Article seeks to resolve one thorny issue of statutory interpretation: the treatment of attorneys' fees in bankruptcy.
The Supreme Court recently handed down a landmark decision, Lamie v. United States Trustee, in which it held that debtors' attorneys' fees are not entitled to priority treatment in bankruptcy. In the aftermath of Lamie, courts have struggled to apply its holding to a host of scenarios left unresolved by the Court's decision. This Article attempts to create a new method for approaching the priority of attorneys' fees in bankruptcy. It criticizes Lamie for not going far enough toward resolving the attorneys' fees issue, and proposes a statutory amendment to the Bankruptcy Code that will harmonize the interests of both creditors and debtors who are seeking bankruptcy protection during these difficult economic times.
Keywords
bankruptcy,
attorneys' fees,
priority
Publication Date
June 8, 2009
Citation Information
Michelle A. Cecil. "A Reappraisal of Attorneys' Fees in Bankruptcy"
ExpressO
(2009)
Available at: http://works.bepress.com/michelle_cecil/3/