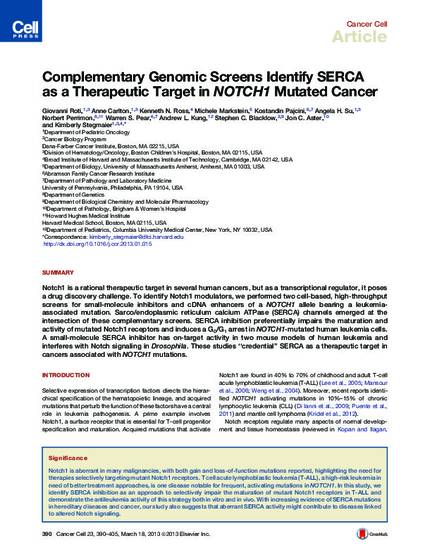 Article
Complementary genomic screens identify SERCA as a therapeutic target in NOTCH1 mutated cancer
Cancer Cell (2013)
Abstract
Notch1 is a rational therapeutic target in several human cancers, but as a transcriptional regulator, it poses a drug discovery challenge. To identify Notch1 modulators, we performed two cell-based, high-throughput screens for small-molecule inhibitors and cDNA enhancers of a NOTCH1 allele bearing a leukemia-associated mutation. Sarco/endoplasmic reticulum calcium ATPase (SERCA) channels emerged at the intersection of these complementary screens. SERCA inhibition preferentially impairs the maturation and activity of mutated Notch1 receptors and induces a G0/G1 arrest in NOTCH1-mutated human leukemia cells. A small-molecule SERCA inhibitor has on-target activity in two mouse models of human leukemia and interferes with Notch signaling in Drosophila. These studies "credential" SERCA as a therapeutic target in cancers associated with NOTCH1 mutations.
Keywords
Notch inhibitors,
Screening,
Intestinal Stem Cells
Citation Information
G. Roti, A. Carlton, KN. Ross, Michele Markstein, et al.. "Complementary genomic screens identify SERCA as a therapeutic target in NOTCH1 mutated cancer"
Cancer Cell
(2013)
Available at: http://works.bepress.com/michele_markstein/10/