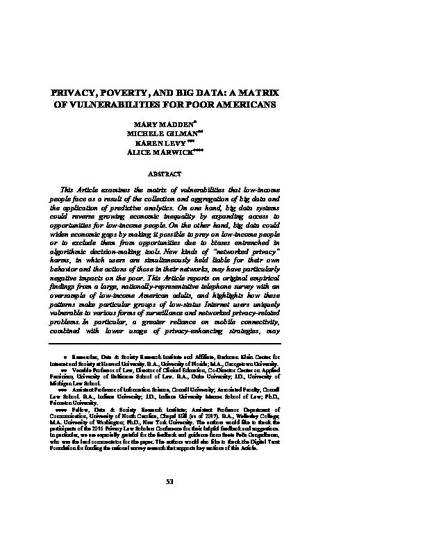 Article
Privacy, Poverty, and Big Data: A Matrix of Vulnerabilities for Poor Americans
Washington University Law Review
Publication Date
1-1-2017
Abstract
This Article examines the matrix of vulnerabilities that low-income people face as a result of the collection and aggregation of big data and the application of predictive analytics. On one hand, big data systems could reverse growing economic inequality by expanding access to opportunities for low-income people. On the other hand, big data could widen economic gaps by making it possible to prey on low-income people or to exclude them from opportunities due to biases entrenched in algorithmic decision-making tools. New kinds of "networked privacy" harms, in which users are simultaneously held liable for their own behavior and the actions of those in their networks, may have particularly negative impacts on the poor. This Article reports on original empirical findings from a large, nationally-representative telephone survey with an oversample of low-income American adults, and highlights how these patterns make particular groups of low-status Internet users uniquely vulnerable to various forms of surveillance and networked privacy-related problems. In particular, a greater reliance on mobile connectivity, combined with lower usage of privacy-enhancing strategies, may contribute to various privacy and security-related harms. The Article then discusses three scenarios in which big data—including data gathered from social media inputs—is being aggregated to make predictions about individual behavior: employment screening, access to higher education, and predictive policing. Analysis of the legal frameworks surrounding these case studies reveals a lack of legal protections to counter digital discrimination against low-income people. In light of these legal gaps, the Article assesses leading proposals for enhancing digital privacy through the lens of class vulnerability, including comprehensive consumer privacy legislation, digital literacy, notice and choice regimes, and due process approaches. As policymakers consider reforms, the Article urges greater attention to impacts on low-income persons and communities.
Citation Information
Mary Madden, Michele E. Gilman, Karen Levy and Alice Marwick. "Privacy, Poverty, and Big Data: A Matrix of Vulnerabilities for Poor Americans"
Washington University Law Review
Vol. 95 (2017) p. 53
Available at: http://works.bepress.com/michele-gilman/26/