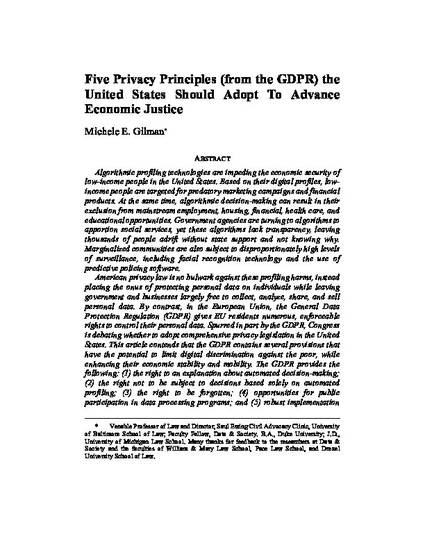 Article
Five Privacy Principles (from the GDPR) the United States Should Adopt To Advance Economic Justice
Arizona State Law Journal
Publication Date
1-1-2020
Abstract
Algorithmic profiling technologies are impeding the economic security of low-income people in the United States. Based on their digital profiles, low- income people are targeted for predatory marketing campaigns and financial products. At the same time, algorithmic decision-making can result in their exclusion from mainstream employment, housing, financial, health care, and educational opportunities. Government agencies are turning to algorithms to apportion social services, yet these algorithms lack transparency, leaving thousands of people adrift without state support and not knowing why. Marginalized communities are also subject to disproportionately high levels of surveillance, including facial recognition technology and the use of predictive policing software.
American privacy law is no bulwark against these profiling harms, instead placing the onus of protecting personal data on individuals while leaving government and businesses largely free to collect, analyze, share, and sell personal data. By contrast, in the European Union, the General Data Protection Regulation (GDPR) gives EU residents numerous, enforceable rights to control their personal data. Spurred in part by the GDPR, Congress is debating whether to adopt comprehensive privacy legislation in the United States. This article contends that the GDPR contains several provisions that have the potential to limit digital discrimination against the poor, while enhancing their economic stability and mobility. The GDPR provides the following: (1) the right to an explanation about automated decision-making; (2) the right not to be subject to decisions based solely on automated profiling; (3) the right to be forgotten; (4) opportunities for public participation in data processing programs; and (5) robust implementation and enforcement tools. The interests of low-income people must be part of privacy lawmaking, and the GDPR is a useful template for thinking about how to meet their data privacy needs.
Citation Information
Michele E. Gilman. "Five Privacy Principles (from the GDPR) the United States Should Adopt To Advance Economic Justice"
Arizona State Law Journal
Vol. 52 (2020) p. 368
Available at: http://works.bepress.com/michele-gilman/14/