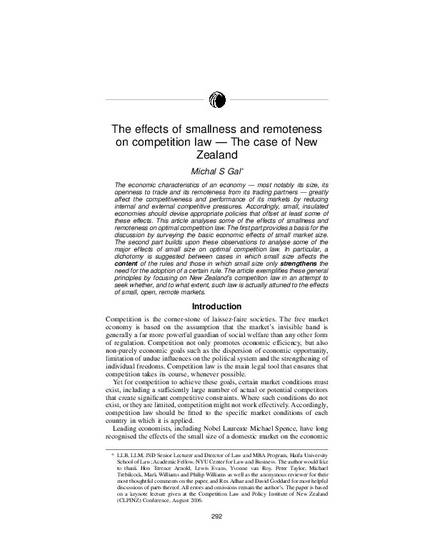 Article
The Effects of Smallness and Remoteness on Competition Law - The Case of New Zealand
Competition and Consumer Law (2007)
Abstract
The economic characteristics of an economy — most notably its size, its openness to trade and its remoteness from its trading partners — greatly affect the competitiveness and performance of its markets by reducing internal and external competitive pressures. Accordingly, small, insulated economies should devise appropriate policies that offset at least some of these effects. This article analyses some of the effects of smallness and remoteness on optimal competition law. The first part provides a basis for the discussion by surveying the basic economic effects of small market size. The second part builds upon these observations to analyse some of the major effects of small size on optimal competition law. In particular, a dichotomy is suggested between cases in which small size affects the content of the rules and those in which small size only strengthens the need for the adoption of a certain rule. The article exemplifies these general principles by focusing on New Zealand's competition law in an attempt to seek whether, and to what extent, such law is actually attuned to the effects of small, open, remote markets.
Citation Information
Michal Gal. "The Effects of Smallness and Remoteness on Competition Law - The Case of New Zealand"
Competition and Consumer Law
Vol. 14 Iss. 3 (2007)
Available at: http://works.bepress.com/michal_gal/15/