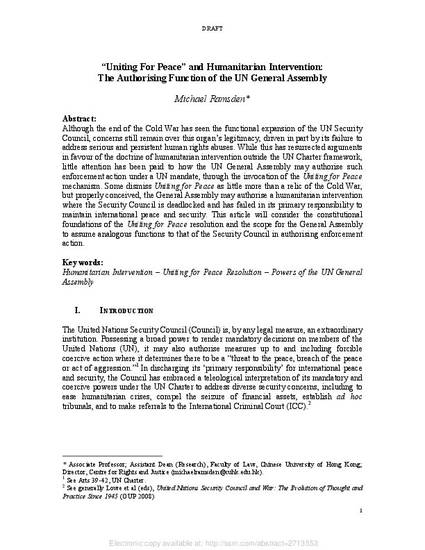 Article
"Uniting For Peace" and Humanitarian Intervention: The Authorising Function of the UN General Assembly
Washington International Law Journal (forthcoming) (2016)
Abstract
Although the end of the Cold War has seen the functional expansion of the UN Security Council, concerns still remain over this organ's legitimacy, driven in part by its failure to address serious and persistent human rights abuses. While this has resurrected arguments in favour of the doctrine of humanitarian intervention outside the UN Charter framework, little attention has been paid to how the UN General Assembly may authorise such enforcement action under a UN mandate, through the invocation of the
Uniting for Peace
mechanism. Some dismiss
Uniting for Peace
as little more than a relic of the Cold War, but properly conceived, the General Assembly may authorise a humanitarian intervention where the Security Council is deadlocked and has failed in its primary responsibility to maintain international peace and security. This article will consider the constitutional foundations of the
Uniting for Peace
resolution and the scope for the General Assembly to assume analogous functions to that of the Security Council in authorising enforcement action. 
Keywords
Humanitarian Intervention – Uniting for Peace Resolution – Powers of the UN General Assembly
Publication Date
Spring 2016
Citation Information
Michael Ramsden. ""Uniting For Peace" and Humanitarian Intervention: The Authorising Function of the UN General Assembly"
Washington International Law Journal (forthcoming)
(2016)
Available at: http://works.bepress.com/michaelramsden/2/