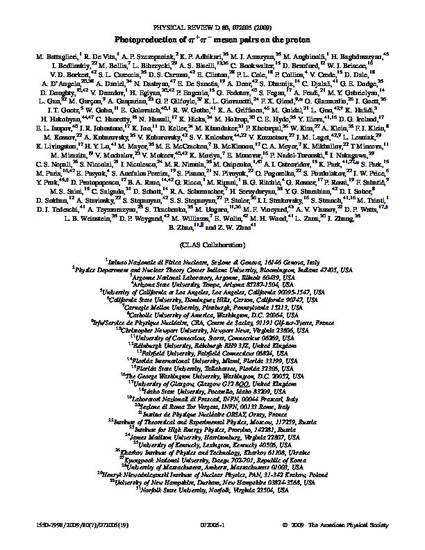 Article
Photoproduction of pi(+)pi(-) meson pairs on the proton
Physical Review D (2009)
M Battaglieri

R De Vita

AP Szczepaniak

KP Adhikari

MJ Amaryan

M Anghinolfi

H Baghdasaryan

I Bedlinskiy

M Bellis

L Bibrzycki

AS Biselli

C Bookwalter

D Branford

WJ Briscoe

VD Burkert

SL Careccia

DS Carman

E Clinton

PL Cole

P Collins

V Crede

D Dale

A D'Angelo

A Daniel

N Dashyan

E De Sanctis

A Deur

S Dhamija

C Djalali

GE Dodge

D Doughty

V Drozdov

H Egiyan

P Eugenio

G Fedotov

S Fegan

A Fradi

MY Gabrielyan

L Gan

M Garcon

A Gasparian

GP Gilfoyle

KL Giovanetti

FX Girod

O Glamazdin

J Goett

JT Goetz

W Gohn

E Golovatch

RW Gothe

KA Griffioen

M Guidal

L Guo

K Hafidi

H Hakobyan

C Hanretty

N Hassall

K Hicks

M Holtrop

CE Hyde

Y Ilieva

DG Ireland

EL Isupov

JR Johnstone

K Joo

D Keller

M Khandaker

P Khetarpal

W Kim

A Klein

FJ Klein

M Kossov

A Kubarovsky

V Kubarovsky

SV Kuleshov

V Kuznetsov

JM Laget

L Lesniak

K Livingston

HY Lu

M Mayer

ME McCracken

B McKinnon

CA Meyer

K Mikhailov

T Mineeva

M Mirazita

V Mochalov

V Mokeev

K Moriya

E Munevar

P Nadel-Turonski

I Nakagawa

CS Nepali

S Niccolai

I Niculescu

MR Niroula

M Osipenko

AI Ostrovidov

K Park

S Park

M Paris

E Pasyuk

SA Pereira

S Pisano

N Pivnyuk

O Pogorelko

S Pozdniakov

JW Price

Y Prok

D Protopopescu

BA Raue

G Ricco

M Ripani

BG Ritchie

G Rosner

P Rossi

F Sabatie

MS Saini

C Salgado

D Schott

RA Schumacher

H Seraydaryan

YG Sharabian

DI Sober

D Sokhan

A Stavinsky

S Stepanyan

SS Stepanyan

P Stoler

II Strakovsky

S Strauch

M Taiuti

DJ Tedeschi

A Teymurazyan

S Tkachenko

M Ungaro

MF Vineyard

AV Vlassov

DP Watts

LB Weinstein

DP Weygand

M Williams

,

University of Massachusetts - Amherst

E Wolin

MH Wood

L Zana

J Zhang

B Zhao

ZW Zhao
Abstract
The cross section for photoproduction of pion pairs from hydrogen has been calculated from the cut-off static theory, assuming the energy is sufficiently low that one of the mesons is produced in an S state, the other in a P state. It is shown that the cross section for this process can be expressed exactly in terms of the P-wave scattering phase shifts, provided the S-wave meson-nucleon interactions and the meson-meson interaction can be neglected. The theoretical predictions obtained here are in general agreement with preliminary experimental results.
Publication Date
January 1, 2009
Citation Information
M Battaglieri, R De Vita, AP Szczepaniak, KP Adhikari, et al.. "Photoproduction of pi(+)pi(-) meson pairs on the proton"
Physical Review D
Vol. 80 Iss. 7 (2009)
Available at: http://works.bepress.com/michael_williams/68/