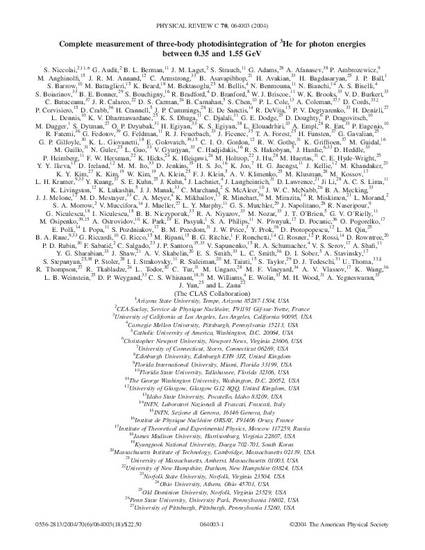 Article
Complete measurement of three-body photodisintegration of He-3 for photon energies between 0.35 and 1.55 GeV
Physical Review C (2004)
S Niccolai

G Audit

BL Berman

JM Laget

S Strauch

G Adams

A Afanasev

P Ambrozewicz

M Anghinolfi

JRM Annand

C Armstrong

B Asavapibhop

H Avakian

H Bagdasaryan

JP Ball

S Barrow

M Battaglieri

K Beard

M Bektasoglu

M Bellis

N Benmouna

N Bianchi

AS Biselli

S Boiarinov

BE Bonner

S Bouchigny

R Bradford

D Branford

WJ Briscoe

WK Brooks

VD Burkert

C Butuceanu

JR Calarco

DS Carman

B Carnahan

S Chen

PL Cole

A Coleman

D Cords

P Corvisiero

D Crabb

H Crannell

JP Cummings

E De Sanctis

R DeVita

PV Degtyarenko

H Denizli

L Dennis

KV Dharmawardane

KS Dhuga

C Djalali

GE Dodge

D Doughty

P Dragovitsch

M Dugger

S Dytman

OP Dzyubak

H Egiyan

KS Egiyan

L Elouadrhiri

A Empl

R Ent

P Eugenio

R Fatemi

G Fedotov

G Feldman

RJ Feuerbach

J Ficenec

TA Forest

H Funsten

G Gavalian

GP Gilfoyle

KL Giovanetti

E Golovatch

CIO Gordon

RW Gothe

K Griffioen

M Guidal

M Guillo

N Guler

L Guo

V Gyurjyan

C Hadjidakis

RS Hakobyan

J Hardie

D Heddle

P Heimberg

FW Hersman

K Hicks

K Hleiqawi

M Holtrop

J Hu

M Huertas

CE Hyde-Wright

YY Ilieva

D Ireland

MM Ito

D Jenkins

HS Jo

K Joo

HG Juengst

J Kellie

M Khandaker

KY Kim

K Kim

W Kim

A Klein

FJ Klein

AV Klimenko

M Klusman

M Kossov

LH Kramer

Y Kuang

SE Kuhn

J Kuhn

J Lachniet

J Langheinrich

D Lawrence

J Li

ACS Lima

K Livingston

K Lukashin

JJ Manak

C Marchand

S McAleer

JWC McNabb

BA Mecking

JJ Melone

MD Mestayer

CA Meyer

K Mikhailov

R Minehart

M Mirazita

R Miskimen

L Morand

SA Morrow

V Muccifora

J Mueller

LY Murphy

GS Mutchler

J Napolitano

R Naseripour

G Niculescu

I Niculescu

BB Niczyporuk

RA Niyazov

M Nozar

JT O'Brien

GV O'Rielly

M Osipenko

A Ostrovidov

K Park

E Pasyuk

SA Philips

N Pivnyuk

D Pocanic

O Pogorelko

E Polli

I Popa

S Pozdniakov

BM Preedom

JW Price

Y Prok

D Protopopescu

LM Qin

BA Raue

G Riccardi

G Ricco

M Ripani

BG Ritchie

F Ronchetti

G Rosner

P Rossi

D Rowntree

PD Rubin

F Sabatie

C Salgado

JP Santoro

V Sapunenko

RA Schumacher

VS Serov

A Shafi

YG Sharabian

J Shaw

AV Skabelin

ES Smith

LC Smith

DI Sober

A Stavinsky

S Stepanyan

P Stoler

II Strakovsky

R Suleiman

M Taiuti

S Taylor

DJ Tedeschi

U Thoma

R Thompson

R Tkabladze

L Todor

C Tur

M Ungaro

MF Vineyard

AV Vlassov

K Wang

LB Weinstein

DP Weygand

CS Whisnant

M Williams

,

University of Massachusetts - Amherst

E Wolin

MH Wood

A Yegneswaran

J Yun

L Zana
Abstract
The three-body photodisintegration of 3He has been measured with the CLAS detector at Jefferson Lab, using tagged photons of energies between 0.35 GeV and 1.55 GeV. The large acceptance of the spectrometer allowed us for the first time to cover a wide momentum and angular range for the two outgoing protons. Three kinematic regions dominated by either two- or three-body contributions have been distinguished and analyzed. The measured cross sections have been compared with results of a theoretical model, which, in certain kinematic ranges, have been found to be in reasonable agreement with the data.
Publication Date
January 1, 2004
Citation Information
S Niccolai, G Audit, BL Berman, JM Laget, et al.. "Complete measurement of three-body photodisintegration of He-3 for photon energies between 0.35 and 1.55 GeV"
Physical Review C
Vol. 70 Iss. 6 (2004)
Available at: http://works.bepress.com/michael_williams/1/