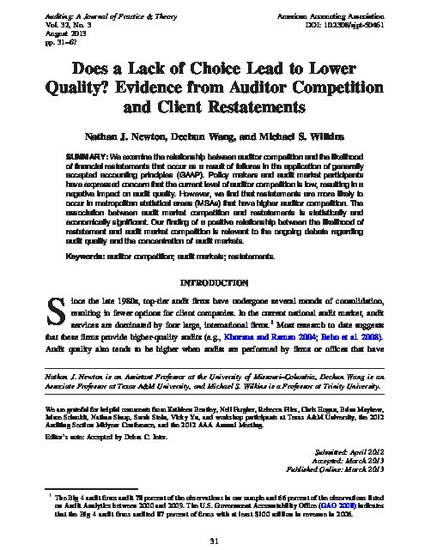 Article
Does a Lack of Choice Lead to Lower Quality?: Evidence from Auditor Competition and Client Restatements
Auditing: A Journal of Practice & Theory
Publication Date
8-1-2013
Abstract
We examine the relationship between auditor competition and the likelihood of financial restatements that occur as a result of failures in the application of GAAP. Policy makers and audit market participants have expressed concern that the current level of auditor competition is low, resulting in a negative impact on audit quality. However, we find that restatements are more likely to occur in metropolitan statistical areas (MSAs) that have higher auditor competition. The association between audit market competition and restatements is statistically and economically significant. Our finding that audit quality is higher when auditor competition is lower suggests that at least some of the concerns about concentrated audit markets may be unfounded.
Document Object Identifier (DOI)
10.2308/ajpt-50461
Publisher
American Accounting Association
Citation Information
Newton, N. J., Wang, D., & Wilkins, M. S. (2013). Does a lack of choice lead to lower quality? Evidence from auditor competition and client restatements.
Auditing: A Journal Of Practice & Theory, 32
(3), 31-67. doi: 10.2308/ajpt-50461