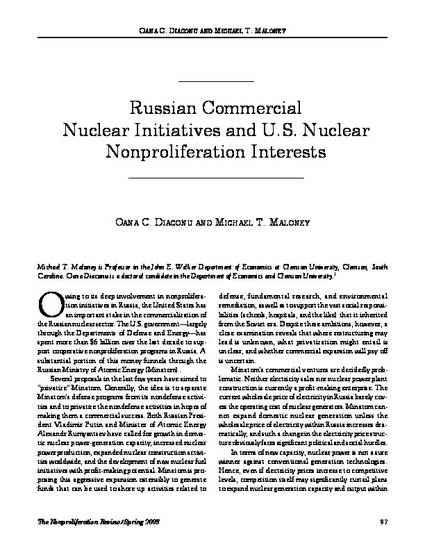 Article
Russian Commercial Nuclear Initiatives and U.S. Nuclear Nonproliferation Interests
The Nonproliferation Review (2003)
Abstract
Recent proposals put forward by the Russian Ministry of Atomic Energy (Minatom) aim to "privatize" Minatom's nondefense activities in hopes of making them commercially profitable. Through such reforms, Minatom is ostensibly seeking to generate funds that can be used to finance environmental remediation and nonproliferation activities, as well as support the vast social responsibilities (schools, hospitals, and the like) that it inherited from the Soviet era. Oana C. Diaconu and Michael T. Maloney, both of the Department of Economics at Clemson University, examine the obstacles Minatom faces as it attempts to commercialize its civilian activities. The authors argue that Minatom's ambitious plans are likely to founder on the rocks of market competition, and that it is far from clear that it can turn a profit in such areas as nuclear power generation, nuclear power plant construction, and spent fuel management. As a result, we conclude that Minatom is likely to remain financially strapped and may even become more responsive in the future to the concerns of U.S. nonproliferation programs that channel hard cash to its departments and divisions.
Publication Date
March, 2003
Citation Information
Michael T. Maloney and Oana Diaconu. "Russian Commercial Nuclear Initiatives and U.S. Nuclear Nonproliferation Interests"
The Nonproliferation Review
Vol. 10 Iss. 1 (2003)
Available at: http://works.bepress.com/michael_t_maloney/5/