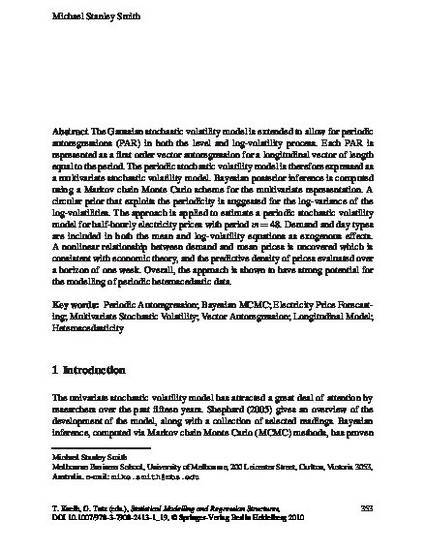 Contribution to Book
Bayesian Inference for a Periodic Stochastic Volatility Model of Intraday Electricity Prices
Statistical Modelling and Regression Structures: Festschrift in Honour of Ludwig Fahrmeir (2010)
Abstract
The Gaussian stochastic volatility model is extended to allow for periodic autoregressions (PAR) in both the level and log-volatility process. Each PAR is represented as a first order vector autoregression for a longitudinal vector of length equal to the period. The periodic stochastic volatility model is therefore expressed as a multivariate stochastic volatility model. Bayesian posterior inference is computed using a Markov chain Monte Carlo scheme for the multivariate representation. A circular prior that exploits the periodicity is suggested for the log-variance of the log-volatilities. The approach is applied to estimate a periodic stochastic volatility model for half-hourly electricity prices with period m = 48. Demand and day types are included in both the mean and log-volatility equations as exogenous effects. A nonlinear relationship between demand and mean prices is uncovered which is consistent with economic theory, and the predictive density of prices evaluated over a horizon of one week. Overall, the approach is shown to have strong potential for the modelling of periodic heteroscedastic data.
Editor
Kneib, T. and Tutz, G.
Publisher
Physica-Verlag HD
Citation Information
Michael S Smith. "Bayesian Inference for a Periodic Stochastic Volatility Model of Intraday Electricity Prices"
Statistical Modelling and Regression Structures: Festschrift in Honour of Ludwig Fahrmeir
(2010)
Available at: http://works.bepress.com/michael_smith/21/