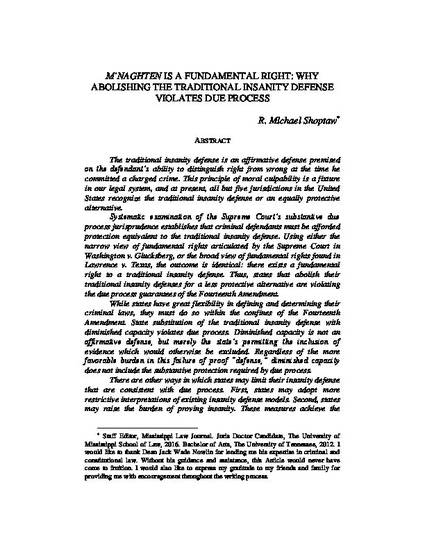 Unpublished Paper
M'Naghten Is a Fundamental Right: Why Abolishing the Traditional Insanity Defense Violates Due Process
(2015)
Abstract
The traditional insanity defense is an affirmative defense premised on the defendant's ability to distinguish right from wrong at the time he committed a charged crime. This principle of moral culpability is a fixture in our legal system, and at present, all but five jurisdictions in the United States recognize the traditional insanity defense or an equally protective alternative.
Systematic examination of the Supreme Court's substantive due process jurisprudence establishes that criminal defendants must be afforded protection equivalent to the traditional insanity defense. Using either the narrow view of fundamental rights articulated by the Supreme Court in Washington v. Glucksberg, or the broad view of fundamental rights found in Lawrence v. Texas, the outcome is identical: there exists a fundamental right to a traditional insanity defense. Thus, states that abolish their traditional insanity defenses for a less protective alternative are violating the due process guarantees of the Fourteenth Amendment.
While states have great flexibility in defining and determining their criminal laws, they must do so within the confines of the Fourteenth Amendment. State substitution of the traditional insanity defense with diminished capacity violates due process. Diminished capacity is not an affirmative defense, but merely the state's permitting the inclusion of evidence which would otherwise be excluded. Regardless of the more favorable burden in this failure of proof "defense," diminished capacity does not include the substantive protection required by due process.
There are other ways in which states may limit their insanity defense that are consistent with due process. First, states may adopt more restrictive interpretations of existing insanity defense models. Second, states may raise the burden of proving insanity. These measures achieve the interests proffered by states seeking to limit the insanity defense and do not deny criminal defendants of the substantive protections guaranteed to them by the Fourteenth Amendment.
Citation Information
Michael Shoptaw. "M'Naghten Is a Fundamental Right: Why Abolishing the Traditional Insanity Defense Violates Due Process" (2015)
Available at: http://works.bepress.com/michael_shoptaw/1/