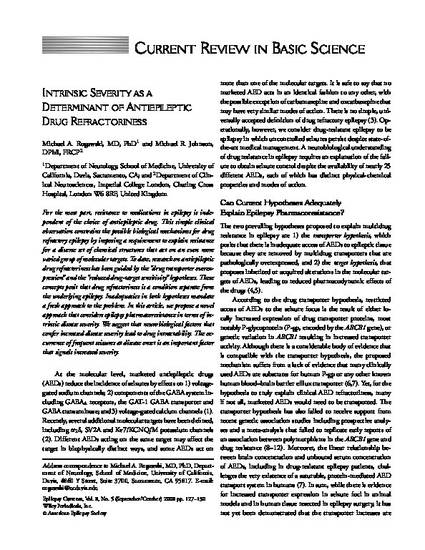 Article
Intrinsic Severity as a Determinant of Antiepileptic Drug Refractoriness
Epilepsy Currents (2008)
Abstract
For the most part, resistance to medications in epilepsy is independent of the choice of antiepileptic drug. This simple clinical observation constrains the possible biological mechanisms for drug refractory epilepsy by imposing a requirement to explain resistance for a diverse set of chemical structures that act on an even more varied group of molecular targets. To date, research on antiepileptic drug refractoriness has been guided by the "drug transporter overexpression" and the "reduced drug-target sensitivity" hypotheses. These concepts posit that drug refractoriness is a condition separate from the underlying epilepsy. Inadequacies in both hypotheses mandate a fresh approach to the problem. In this article, we propose a novel approach that considers epilepsy pharmacoresistance in terms of intrinsic disease severity. We suggest that neurobiological factors that confer increased disease severity lead to drug intractability. The occurrence of frequent seizures at disease onset is an important factor that signals increased severity.
Keywords
epilepsy,
pharmacoresistance,
severity,
p-glycoprotein
Publication Date
September, 2008
Citation Information
Michael A. Rogawski and Michael R. Johnson. "Intrinsic Severity as a Determinant of Antiepileptic Drug Refractoriness"
Epilepsy Currents
Vol. 8 Iss. 5 (September/October) (2008)
Available at: http://works.bepress.com/michael_rogawski/7/