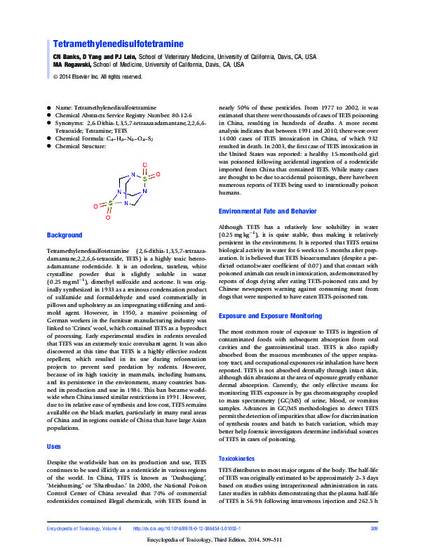 Contribution to Book
Tetramethylenedisulfotetramine
Encyclopedia of Toxicology, 3rd edition (2014)
Abstract
Tetramethylenedisulfotetramine (2,6-dithia-1,3,5,7-tetraazadamantane,2,2,6,6-tetraoxide, TETS) is a highly toxic heteroadamantane rodenticide. It is an odorless, tasteless,white crystalline powder that is slightly soluble in water (0.25 mg ml-1), dimethylsulfoxide and acetone. It was originally synthesized in 1933 as a resinous condensation product of sulfamide and formaldehyde and used commercially in pillows and upholstery as animpregnating stiffening and anti mold agent. However, in 1950, a massive poisoning of German workers in the furniture manufacturing industry was linked to 'Crinex' wool, which contained TETS as a by product of processing.
Publication Date
March, 2014
Publisher
Elsevier Inc., Academic Press
Citation Information
Christopher N. Banks, Dongren Yang, Pamela J. Lein and Michael A. Rogawski. "Tetramethylenedisulfotetramine"
Encyclopedia of Toxicology, 3rd edition
Vol. 4 (2014)
Available at: http://works.bepress.com/michael_rogawski/63/