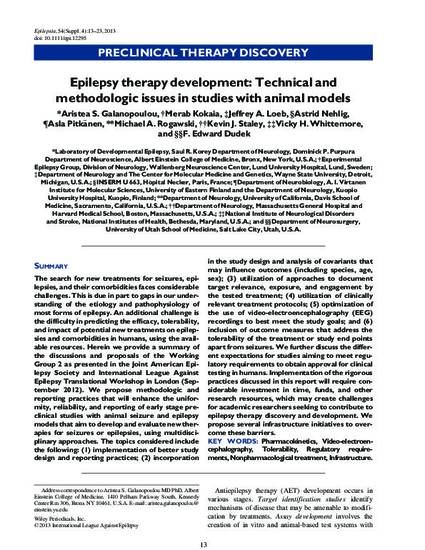 Article
Epilepsy Therapy Development: Technical and Methodologic Issues in Studies with Animal Models
Epilepsia (2013)
Abstract
The search for new treatments for seizures, epilepsies, and their comorbidities faces considerable challenges. This is due in part to gaps in our understanding of the etiology and pathophysiology of most forms of epilepsy. An additional challenge is the difficulty in predicting the efficacy, tolerability, and impact of potential new treatments on epilepsies and comorbidities in humans, using the available resources. Herein we provide a summary of the discussions and proposals of the Working Group 2 as presented in the Joint American Epilepsy Society and International League Against Epilepsy Translational Workshop in London (September 2012). We propose methodologic and reporting practices that will enhance the uniformity, reliability, and reporting of early stage preclinical studies with animal seizure and epilepsy models that aim to develop and evaluate new therapies for seizures or epilepsies, using multidisciplinary approaches. The topics considered include the following: (1) implementation of better study design and reporting practices; (2) incorporation in the study design and analysis of covariants that may influence outcomes (including species, age, sex); (3) utilization of approaches to document target relevance, exposure, and engagement by the tested treatment; (4) utilization of clinically relevant treatment protocols; (5) optimization of the use of video-electroencephalography (EEG) recordings to best meet the study goals; and (6) inclusion of outcome measures that address the tolerability of the treatment or study end points apart from seizures. We further discuss the different expectations for studies aiming to meet regulatory requirements to obtain approval for clinical testing in humans. Implementation of the rigorous practices discussed in this report will require considerable investment in time, funds, and other research resources, which may create challenges for academic researchers seeking to contribute to epilepsy therapy discovery and development. We propose several infrastructure initiatives to overcome these barriers.
Keywords
pharmacokinetics,
video-electroencephalography,
tolerability,
regulatory requirements,
nonpharmacological treatment,
infrastructure
Publication Date
August, 2013
Citation Information
Aristea S. Galanopoulou, Merab Kokaia, Jeffrey A. Loeb, Astrid Nehlig, et al.. "Epilepsy Therapy Development: Technical and Methodologic Issues in Studies with Animal Models"
Epilepsia
Vol. 54 Iss. Suppl 4 (2013)
Available at: http://works.bepress.com/michael_rogawski/59/