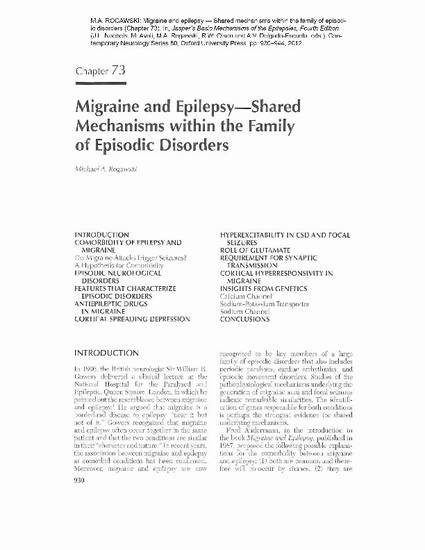 Contribution to Book
Migraine and Epilepsy—Shared Mechanisms within the Family of Episodic Disorders
Jasper's Basic Mechanisms of the Epilepsies, 4th Edition (2012)
Abstract
Migraine and epilepsy are episodic disorders that share many clinical features and underlying pathophysiological mechanisms. Cortical spreading depression (CSD), a wave of profound cellular depolarization, is believed to underlie migraine aura and to be a trigger for the headache pain in migraine. However, the initial event preceding CSD is cellular hyperexcitability associated with localized epileptiform discharges. Glutamate is a critical mediator of the hyperexcitability in both focal seizures and migraine. In focal epilepsy, seizure generation and spread is mediated by synaptically released glutamate acting on AMPA receptors, whereas triggering of CSD depends on NMDA receptors and spread does not require synaptic transmission. Some antiepileptic drugs prevent the occurrence of migraine attacks, supporting the view that neuronal hyperexcitability is an initiating event. Epidemiological studies demonstrate that epilepsy and migraine are comorbid conditions. This is likely due to shared genetic or environmental factors (such as head injury) that lead to brain hyperexcitability. Strong support for a shared genetic basis comes from familial hemiplegic migraine (FHM), an autosomal dominant syndrome characterized by severe migraine, that arises as a result of mutations in genes for the membrane ion transport proteins CACNA1A (P/Q-type voltage-gated calcium channel), ATP1A2 (Na+-K+ ATPase), and SCN1A (voltage-gated sodium channel). Allelic mutations in all three genes also cause generalized and in some cases focal epilepsy. Certain mutations in each of the genes are associated with the co-occurrence of FHM and seizures in the same family members; in some cases, seizures occur during migraine attacks ("migralepsy"). While hypersynchronous neuronal discharges are present in seizures and migraine attacks, a key unanswered question is why hypersynchronous activity propagates in epilepsy and transitions to CSD in migraine. Insights into commonalities in the pathophysiology of epilepsy and migraine may suggest new treatment approaches for both conditions.
Editor
Noebels JL, Avoli M, Rogawski MA, Olsen RW, Delgado-Escueta AV
Publisher
Oxford University Press
Series
Contemporary Neurology Series
Citation Information
Rogawski MA. Migraine and Epilepsy—Shared Mechanisms within the Family of Episodic Disorders.
In: Jasper's Basic Mechanisms of the Epilepsies, 4th Edition
(Noebels JL, Avoli M, Rogawski MA, Olsen RW, Delgado-Escueta AV, eds) New York: Oxford University Press, 2012. 928-942. Available at: http://works.bepress.com/michael_rogawski/36
NCBI Bookshelf version available at: http://www.ncbi.nlm.nih.gov/books/NBK98193/