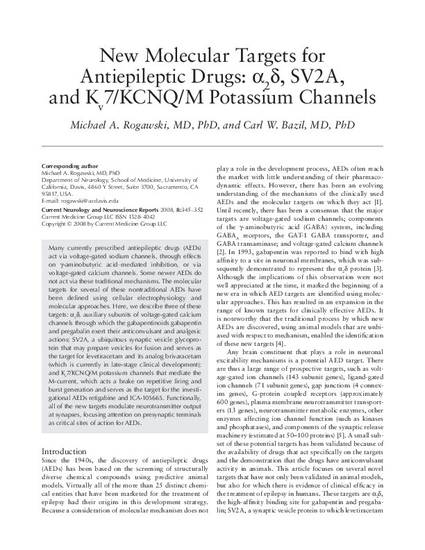 Article
New molecular targets for antiepileptic drugs: alpha2delta, SV2A, and Kv7/KCNQ/M potassium channels
Curr Neurol Neurosci Rep (2008)
Abstract
Many currently prescribed antiepileptic drugs (AEDs) act via voltage-gated sodium channels, through effects on gamma-aminobutyric acid-mediated inhibition, or via voltage-gated calcium channels. Some newer AEDs do not act via these traditional mechanisms. The molecular targets for several of these nontraditional AEDs have been defined using cellular electrophysiology and molecular approaches. Here, we describe three of these targets: alpha(2)delta, auxiliary subunits of voltage-gated calcium channels through which the gabapentinoids gabapentin and pregabalin exert their anticonvulsant and analgesic actions; SV2A, a ubiquitous synaptic vesicle glycoprotein that may prepare vesicles for fusion and serves as the target for levetiracetam and its analog brivaracetam (which is currently in late-stage clinical development); and K(v)7/KCNQ/M potassium channels that mediate the M-current, which acts a brake on repetitive firing and burst generation and serves as the target for the investigational AEDs retigabine and ICA-105665. Functionally, all of the new targets modulate neurotransmitter output at synapses, focusing attention on presynaptic terminals as critical sites of action for AEDs.
Citation Information
Michael A. Rogawski and Carl W. Bazil. "New molecular targets for antiepileptic drugs: alpha2delta, SV2A, and Kv7/KCNQ/M potassium channels"
Curr Neurol Neurosci Rep
Vol. 8 Iss. 4 (2008)
Available at: http://works.bepress.com/michael_rogawski/3/