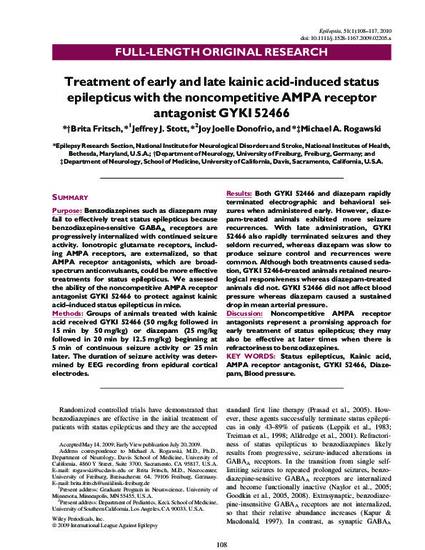 Article
Treatment of Early and Late Kainic-acid Induced Status Epilepticus with the Non-competitive AMPA Receptor Antagonist GYKI 52466
Epilepsia (2010)
Abstract
Purpose: Benzodiazepines such as diazepam may fail to effectively treat status epilepticus because benzodiazepine-sensitive GABA-A receptors are internalized progressively with continued seizure activity. Ionotropic glutamate receptors, including AMPA receptors, are externalized, so that AMPA receptor antagonists, which are broad-spectrum anticonvulsants, could be more effective treatments for satus epilepticus. We assessed the ability of the non-competitive AMPA receptor antagonist GYKI 52466 to protect against kainic acid-induced status epilepticus in mice. Methods: Groups of animals treated with kainic acid received GYKI 52466 (50 mg/kg followed in 15 min by 50 mg/kg) or diazepam (25 mg/kg followed in 20 min by 12.5 mg/kg) beginning at 5 min of continuous seizure activity or 25 min later. The duration of seizure activity was determined by EEG recording from epidural cortical electrodes. Results: Both GYKI 52466 and diazepam rapidly terminated electrographic and behavioral seizures when administered early. However, diazepam-treated animals exhibited more seizure recurrences. With late administration, GYKI 52466 also rapidly terminated seizures and they seldom recurred, whereas diazepam was slow to produce seizure control and recurrences were common. Although both treatments caused sedation, GYKI 52466-treated animals retained neurological responsiveness whereas diazepam-treated animals did not. GYKI 52466 did not affect blood pressure whereas diazepam caused a sustained drop in mean arterial pressure. Discussion: Noncompetitive AMPA receptor antagonists represent a promising approach for early treatment of status epilepticus; they may also be effective at later times when there is refractoriness to benzodiazepines.
Keywords
status epilepticus,
kainic acid,
AMPA receptor antagonist,
GYKI 52466,
diazepam
Citation Information
Brita Fritsch, Jeffrey J Stott, J. Joelle Donofrio and Michael A. Rogawski. "Treatment of Early and Late Kainic-acid Induced Status Epilepticus with the Non-competitive AMPA Receptor Antagonist GYKI 52466"
Epilepsia
Vol. 51 Iss. 1 (2010)
Available at: http://works.bepress.com/michael_rogawski/16/