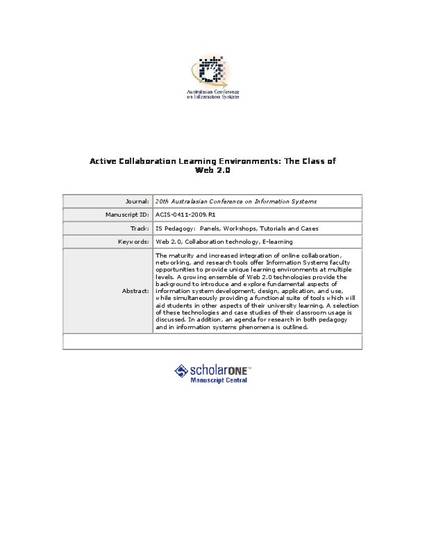 Presentation
Active collaboration learning environments: The class of Web 2.0
20th Australasian Conference on Information Systems: ACIS 2009
Date of this Version
12-2-2009
Document Type
Conference Paper
Abstract
The maturity and increased integration of online collaboration, networking, and research tools offer Information Systems faculty opportunities to provide unique learning environments at multiple levels. A growing ensemble of Web 2.0 technologies provide the background to introduce and explore fundamental aspects of information system development, design, application, and use, while simultaneously providing a functional suite of tools which will aid students in other aspects of their university learning. A selection of these technologies and case studies of their classroom usage is discussed. In addition, an agenda for research in both pedagogy and in information systems phenomena is outlined.
Citation Information
Dirk Hovorka and Michael J Rees. "Active collaboration learning environments: The class of Web 2.0"
20th Australasian Conference on Information Systems: ACIS 2009
(2009)
Available at: http://works.bepress.com/michael_rees/16/