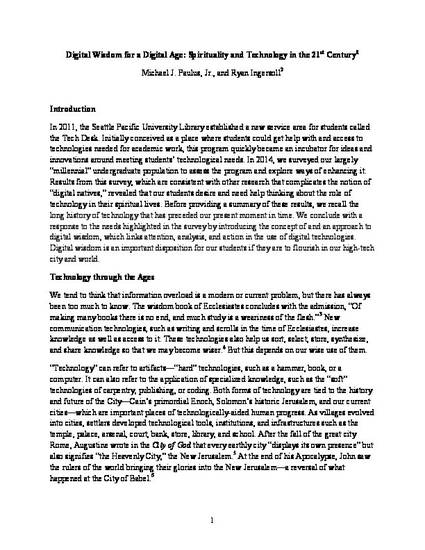 Presentation
Digital Wisdom for a Digital Age: Spirituality and Technology in the 21st Century
Christ and Cascadia (2014)
Abstract
In 2011, the Seattle Pacific University Library established a new service area for students called the Tech Desk. Initially conceived as a place where students could get help with and access to technologies needed for academic work, this program quickly became an incubator for ideas and innovations around meeting students' technological needs. In 2014, we surveyed our largely "millennial" undergraduate population to assess the program and explore ways of enhancing it. Results from this survey, which are consistent with other research that complicates the notion of "digital natives," revealed that our students desire and need help thinking about the role of technology in their spiritual lives. Before providing a summary of these results, we recall the long history of technology that has preceded our present moment in time. We conclude with a response to the needs highlighted in the survey by introducing the concept of and an approach to digital wisdom, which links attention, analysis, and action in the use of digital technologies. Digital wisdom is an important disposition for our students if they are to flourish in our high-tech city and world.
Publication Date
September 27, 2014
Citation Information
Michael J. Paulus and Ryan Ingersoll. "Digital Wisdom for a Digital Age: Spirituality and Technology in the 21st Century"
Christ and Cascadia
(2014)
Available at: http://works.bepress.com/michael_paulus/44/