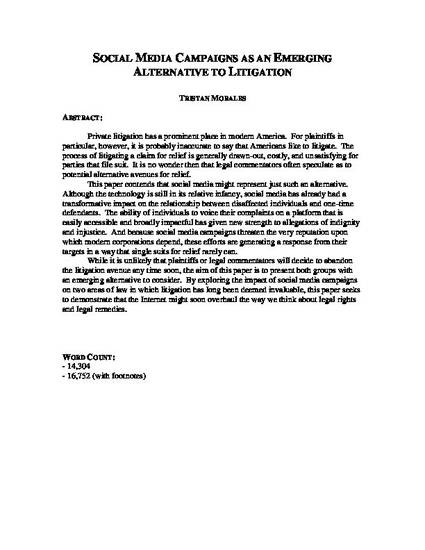 Article
Social Media Campaigns as an Emerging Alternative to Litigation
Rutgers Computer and Technology Law Journal (2012)
Abstract
This article analyzes the likely impact of social media on the legal arena. In particular, it seeks to identify the extent to which social media campaigns might emerge as a viable alternative to litigation in cases where an injury occurs. The Internet has given individuals an easily accessible and broadly impactful platform for voicing allegations of indignity and injustice. By exploring the impact of social media campaigns on two areas of law in which litigation has long been deemed invaluable, consumer protection and employment law, this article seeks to demonstrate that the Internet might also soon overhaul the way we think about legal rights and legal remedies.
Citation Information
Michael Tristan Morales. "Social Media Campaigns as an Emerging Alternative to Litigation"
Rutgers Computer and Technology Law Journal
Vol. 38 Iss. 1 (2012)
Available at: http://works.bepress.com/michael_morales/1/