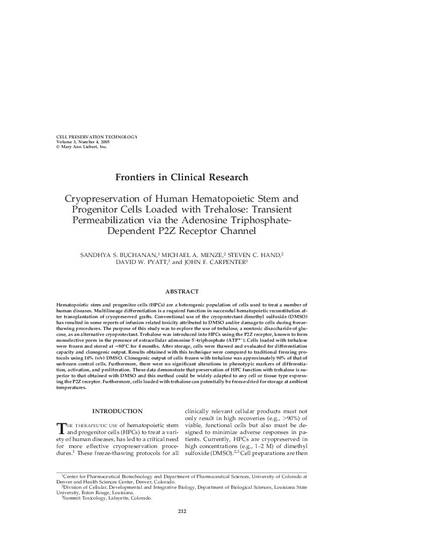 Article
Cryopreservation of Human Hematopoietic Stem and Progenitor Cells Loaded with Trehalose: Transient Permeabilization via the Adenosine TriphosphateDependent P2Z Receptor Channel
Cell Preservation Technology (2005)
Abstract
Hematopoietic stem and progenitor cells (HPCs) are a heterogenic population of cells used to treat a number of human diseases. Multilineage differentiation is a required function in successful hematopoietic reconstitution after transplantation of cryopreserved grafts. Conventional use of the cryoprotectant dimethyl sulfoxide (DMSO) has resulted in some reports of infusion related toxicity attributed to DMSO and/or damage to cells during freezethawing procedures. The purpose of this study was to explore the use of trehalose, a nontoxic disaccharide of glucose, as an alternative cryoprotectant. Trehalose was introduced into HPCs using the P2Z receptor, known to form nonselective pores in the presence of extracellular adenosine 5'-triphosphate (ATP 4 ). Cells loaded with trehalose were frozen and stored at -80°C for 4 months. After storage, cells were thawed and evaluated for differentiation capacity and clonogenic output. Results obtained with this technique were compared to traditional freezing protocols using 10% (v/v) DMSO. Clonogenic output of cells frozen with trehalose was approximately 90% of that of unfrozen control cells. Furthermore, there were no significant alterations in phenotypic markers of differentiation, activation, and proliferation. These data demonstrate that preservation of HPC function with trehalose is superior to that obtained with DMSO and this method could be widely adapted to any cell or tissue type expressing the P2Z receptor. Furthermore, cells loaded with trehalose can potentially be freeze-dried for storage at ambient temperatures.
Publication Date
Winter 2005
Citation Information
Sandhya S. Buchanan, Michael A Menze, Steven C. Hand, David W. Pyatt, et al.. "Cryopreservation of Human Hematopoietic Stem and Progenitor Cells Loaded with Trehalose: Transient Permeabilization via the Adenosine TriphosphateDependent P2Z Receptor Channel"
Cell Preservation Technology
Vol. 3 Iss. 4 (2005)
Available at: http://works.bepress.com/michael_menze/14/