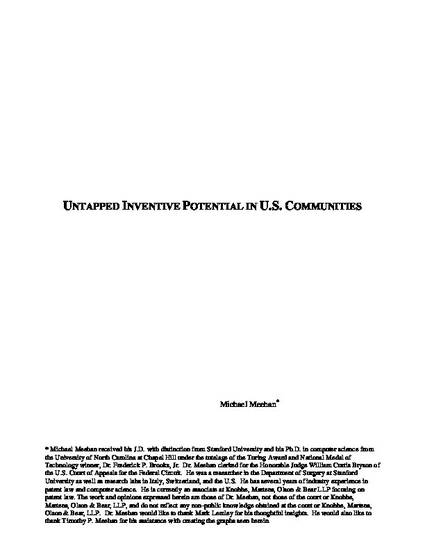 Unpublished Paper
Untapped Inventive Potential in U.S. Communities
ExpressO (2009)
Abstract
This paper combines the 2000 U.S. Census data and the National Bureau of Economic Research's (NBER) Patent Citation Data File in order to analyze how certain community-level population and community factors correlate with overall patenting and relative rates of assigned and unassigned patenting. Among the interesting findings discussed are that, in addition to the fact that overall patenting increased with higher populations of employed people, higher populations of people with either terminal undergraduate or master's degrees, and higher median income, the overall rates of patenting decreased, and did not merely remain the level, as the other sectors of a communities' populations increased, perhaps indicating that outside the studied variables lies information that could indicate an inhibitor to patenting and perhaps also innovation. Another interesting finding was that relative rates of individuals patenting on their own increased as the population with terminal undergraduate degrees increased, indicating that this section of society may be associated with an underutilization of inventive potential. A third of the findings discussed herein is that the existence of pro-employee patenting laws in eight states does not affect the rate that individuals patent on their own, indicating that these laws may not be having the desired effect on individual patenting. These findings and numerous others, as well as the methods used and data analyzed, are discussed at length herein.
Keywords
patent,
patent reform,
technology,
geography,
innovation,
community,
education,
policy
Publication Date
March 1, 2009
Citation Information
Michael Meehan. "Untapped Inventive Potential in U.S. Communities"
ExpressO
(2009)
Available at: http://works.bepress.com/michael_meehan/2/