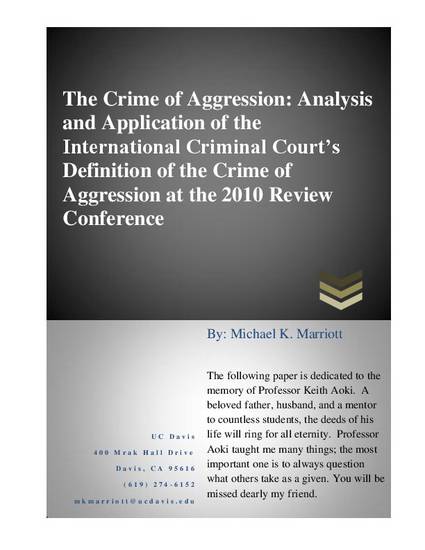 Unpublished Paper
The Crime of Aggression: Analysis and Application of the International Criminal Court's Definition of the Crime of Aggression at the 2010 Review Conference
(2011)
Abstract
The concept of the 'crime of aggression,' or similarly waging a 'war of aggression,' has been an amorphous term of general condemnation since the founding of the United Nations in at the end of the Second World War. The condemnation of 'wars of aggression' should come as little surprise considering the fact that the United Nations was founded on the principles of commitment to the maintenance of international peace and security, the development of friendly, or better stated non-hostile relations between nation-states, and the promotion of increased living standards, social progress, and human rights. Note, however, that at the founding of the United Nations in 1945 the general conceptions of "social progress" and "human rights" were not developed and functional in the way that they are today.
With the creation of the International Criminal Court, the founding document called the Rome Statute, adopted pursuant to a diplomatic conference in July of 1998, included the crime of aggression as one of the crimes under its jurisdiction. The key shortfall is that the Rome Charter never actually defined the crime of aggression, and therefore the International Criminal Court has been unable to prosecute any offenses under this crime. With the recent review conference taking place earlier this year, the crime of aggression was defined pursuant to Resolution 6, finalized on 28 June 2010.
This paper seeks to review the history of crimes of aggression, including how they have shaped the world today. From here the paper discusses the success of the review conference in defining the crime of aggression, and the significance of the definition used. The paper examines how application of the law prohibiting acts of aggression could ideally change the process of interstate dispute resolution, and continues by analyzing how the definition of the crime of aggression may be applied to conflicts within the contemporary international order. This is illustrated by the use of case studies, namely those stemming from the War on Terror. Finally, the paper reviews the current docket of the International Criminal Court in order to determine the likelihood that the Court will use its newfound jurisdiction, and the likelihood that the goals of the International Criminal Court, as a reflection of the goals of the United Nations, will be met.
Citation Information
Michael K Marriott. "The Crime of Aggression: Analysis and Application of the International Criminal Court's Definition of the Crime of Aggression at the 2010 Review Conference" (2011)
Available at: http://works.bepress.com/michael_marriott/6/