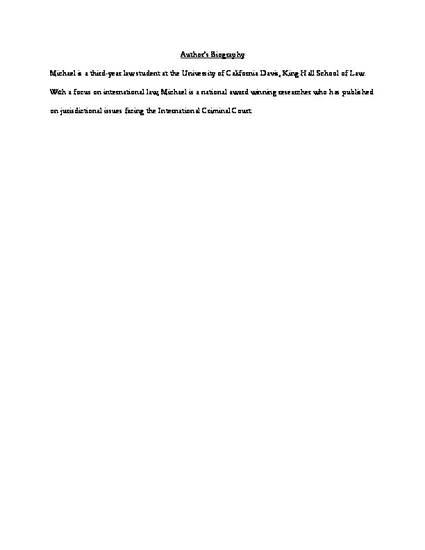 Article
Utilizing the Past to Shape the Future: The Rehabilitation of Child Soldiers in Darfur
N/A (2011)
Abstract
Child soldiering, an unfortunate reality of war, has become increasingly common in modern warfare. With world attention focused on the genocide taking place in the Darfur region of Sudan, issues regarding the use of child soldiers in the conflict have come to light. By providing an overview of the use of child soldiers both globally and in Sudan, discussing the relevant legal norms theoretically governing the country and providing a case study on Sierra Leone, this paper ultimately provides an analysis and proposed framework for comprehensive programs that could be put into action after cessation of hostilities in an attempt to rehabilitate the child soldiers that have been systematically used throughout the conflict.
Citation Information
Michael K Marriott. "Utilizing the Past to Shape the Future: The Rehabilitation of Child Soldiers in Darfur"
N/A
(2011)
Available at: http://works.bepress.com/michael_marriott/4/