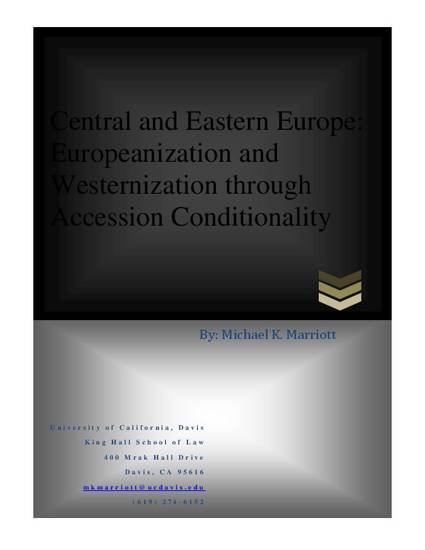 Article
Central and Eastern Europe: Europeanization and Westernization through Accession Conditionality
N/A (2011)
Abstract
With 27 member states, the EU is not a body in and of itself, but rather is a central authority constituted of its member states. In order to create a reasonable level of coherence within the Union, the national politics of each member state must undergo a process of Europeanization so as to find a common ground for the members to work together. This leads to the logical question: 'to what extent are national politics Europeanized?' Although important to consider, this question is overly broad for the purposes of this paper. A more appropriate question, one that exists within the sphere of the original, is: 'how and to what extent are the national politics of Central and Eastern European countries Europeanized in the process of admission to the EU?' This paper seeks to answer such a question by showing what is meant by the continuously evolving term 'European,' the disproportionate influence different actors have on this concept, and ultimately how Central and Eastern European countries are integrated into the European Union.
Citation Information
Michael K Marriott. "Central and Eastern Europe: Europeanization and Westernization through Accession Conditionality"
N/A
(2011)
Available at: http://works.bepress.com/michael_marriott/2/