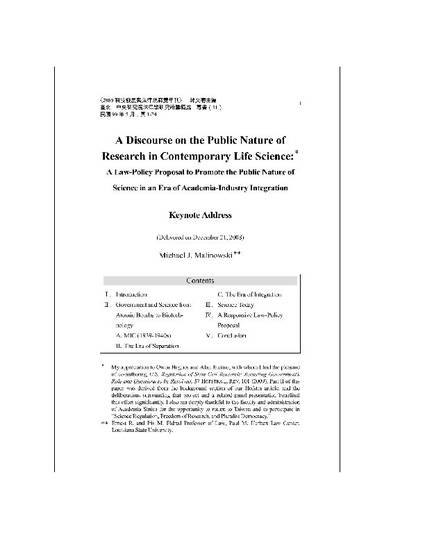 Article
A Discourse on the Public Nature of Research in Contemporary Life Science: A Law-Policy Proposal to Promote the Public Nature of Science in an Era of Academia-Industry Integration
Biennial Review of Law, Science and Technology: Science Governance, Freedom of Research, and Pluralist Democracy
Abstract
This article addresses the impact of integration of academia, industry, and government on the public nature of research. The article concludes that, while the integration has benefited science immensely, regulatory measures should be taken to restore the public nature of research in an age of integration.
Keywords
Research,
Science,
Intellectual Property,
Technology,
Transfer,
Government Funding
Date of Authorship for this Version
1-1-2009
Citation Information
Michael J. Malinowski. "A Discourse on the Public Nature of Research in Contemporary Life Science: A Law-Policy Proposal to Promote the Public Nature of Science in an Era of Academia-Industry Integration"
Biennial Review of Law, Science and Technology: Science Governance, Freedom of Research, and Pluralist Democracy
(2009)
Available at: http://works.bepress.com/michael_malinowski/14/